Airport Movements and interesting aircraft seen over Warwickshire

(These pages updated on Friday 01-10-2002)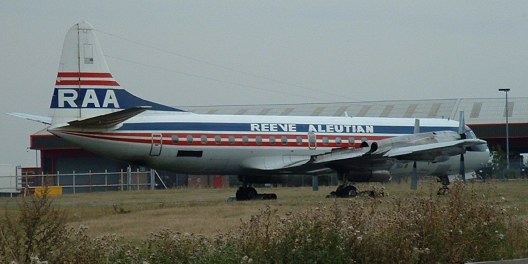 Reeve Aluthian Aircraft purchased by Atlantic Airways.
Atlantic Airways have purchased the two Reeve Aluthian Electra aircraft which have been stored at Anchorage,the first aircraft to arrive was N9744C c/n 1140 which has been converted after its service with Western Airways to a model L188PF Freighter,delivered on 22-08-2002 and making a superb beat up of the airfield she was later moved into one of the hangars to be converted into G-LOFH its reserved registration,the other aircraft N178RV a passenger version was delivered on 05-09-2002 and will eventually appear as G-LOFI.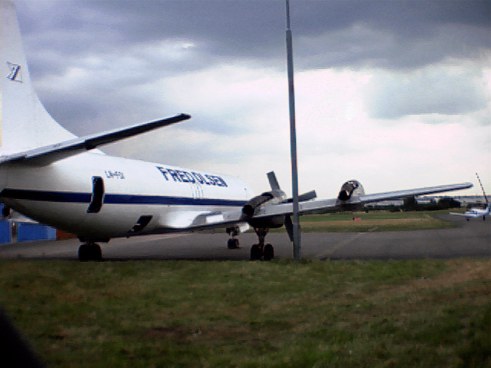 Currently serving a useful role as an engine test bed for Allison engines is this Lockheed Electra that Air Atlantique have put to good use,the aircraft is the ex Fred Olsen LN-FOI,engines can be checked over,run and removed for other aircraft in the fleet.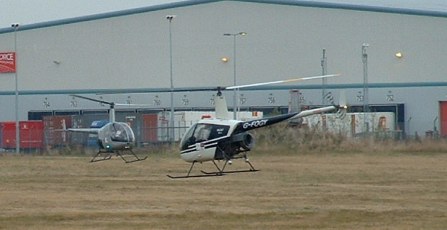 The Southside grass area at Baginton is widely used by the resident helicopter flying schools,here is G-FOGY and G-UNYT Robinson R-22's undergoing training for future helicopter pilots.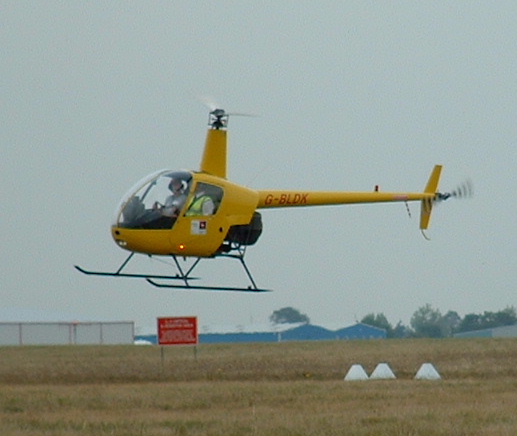 G-BLDK Robinson R-22 gets into the hover at Baginton on 01-10-2002 after arriving from nearby Coombe Abbey with the above two helicopters,if you into these fantastic little runabouts then visit my other site at http://www.robinsonhelicopters@yahoogroups.com
http://www.robinsonhelicopters@yahoogroups.com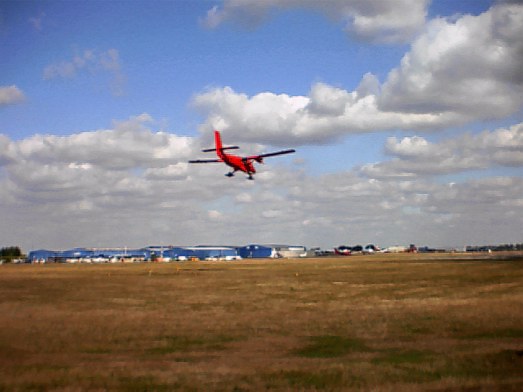 During August-September the British Antartic Survey aircraft were stored at Baginton,they became a regular and colourful sight when they conducted crew training in the area,aircraft involved were VP-FBB,VP-FBC,VP-FBL Twin Otters and Dash 7 VP-FBQ.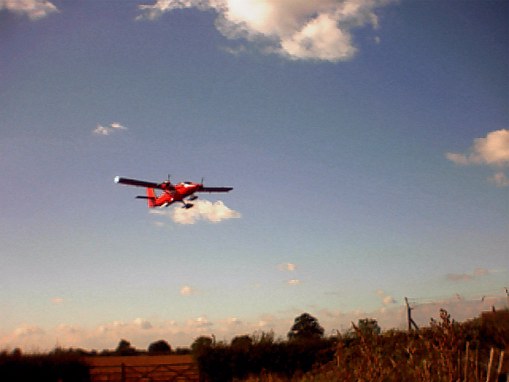 VP-FBC Twin Otter landing at Baginton 26-09-2002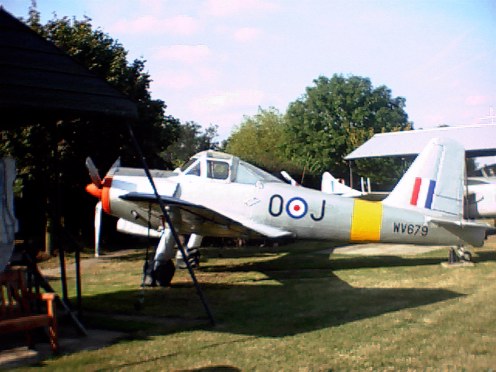 The Wellesbourne Aviation Groups museum at Wellesbourne is well worth a visit,the aircraft are remarkably well kept and the site is very tidy,here is Percival Provost T.1 WV679 photographed on 26-09-2002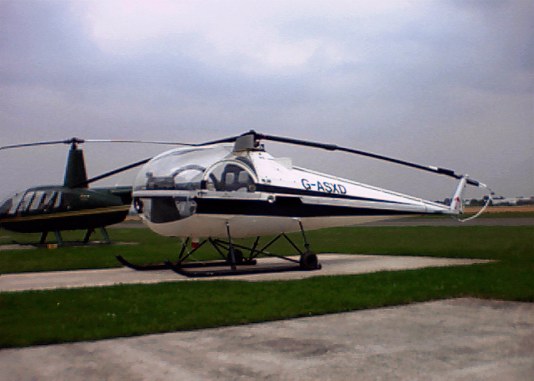 Brantly B.2B vintage helicopters are getting rare in the UK,this one G-ASXD was ferried up from a farm in Devon for work to be undertaken by Heliair,it is shown here at Wellesbourne on 27-08-2002.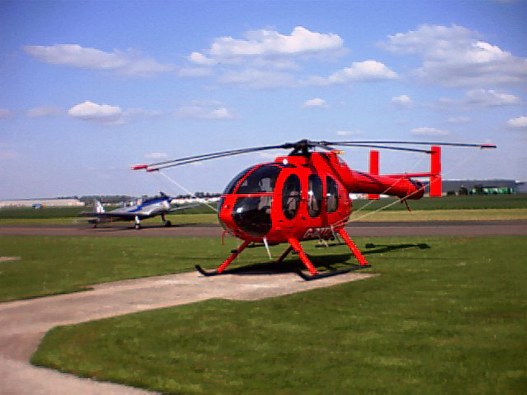 Passing through Wellesbourne on 11-05-2002 and staying for a few days was this MD600N G-BZTZ owned by Select Helicopters at Kintore in Scotland,it passed through Leeds for fuel.
The helicopter was delivered recently from Shoreham to Kintore in company with N600SY which acted as a crew ferry.
The aircraft in the background is Chipmunk G-BBMO which has recently been repainted in its former R.A.F colourscheme as WK514.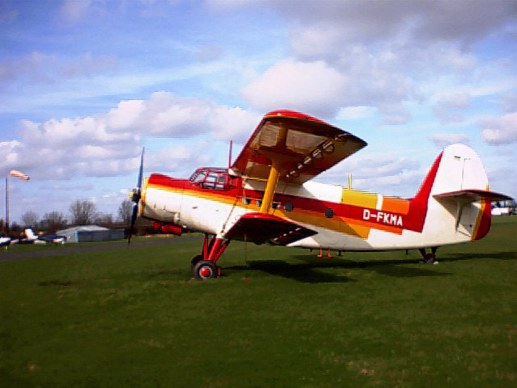 This delightful old Antonov AN-2 biplane D-FKMA is now based at Wellesbourne,photographed here on 21-03-2002 it shows to good advantage the rugged utility like nature of this machine,owned by a British European pilot it flies very occasionly,the aircraft actually served with the East German Air Force and flies in the colours of Aero Troika,the aircraft arrived via Filton from Toulose on 15-07-2001,very nice.
Picture:Barry Clay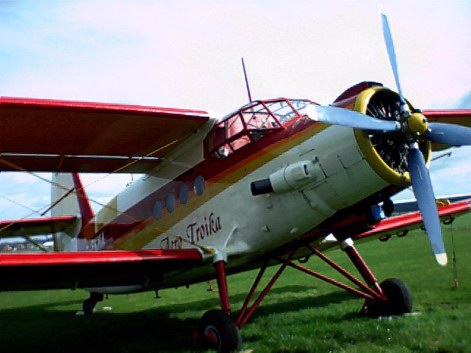 Another view of the mighty Shestonov radial engine,most important to turn those cylinders over by hand by propping prior to starting her,this avoids hydraulic locks due to oil dripping to the lower cylinder.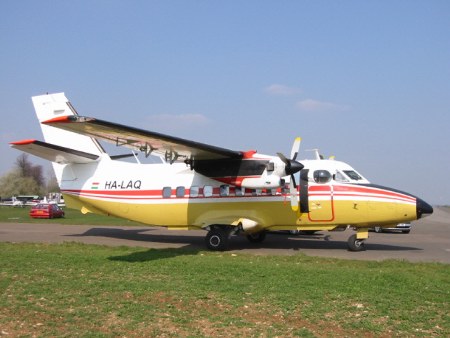 My thanks to Lee Palmer for allowing me to use his photograph of this LET 410 HA-LAQ based at Hinton-In-The Hedges airfield,used for parachuting at this delightful location.
Aircraft is leased from Farnair/Lausair c/n 841332,ex HA-YFB and Hungarian Air Force '332'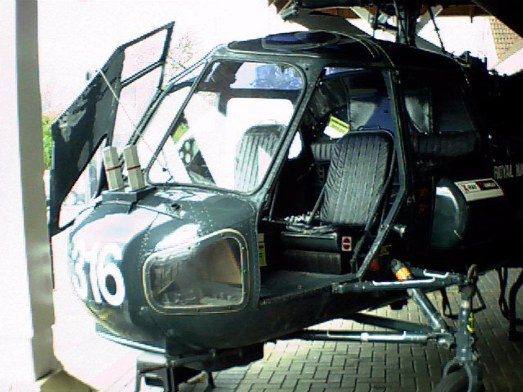 XT788/G-BMIR Wasp HAS.1 was on display outside the Tescos branch in Rugby during April 2002,it is trailered around the country by the Xray Tango Helicopter Club based at Dunkeswell in Devon.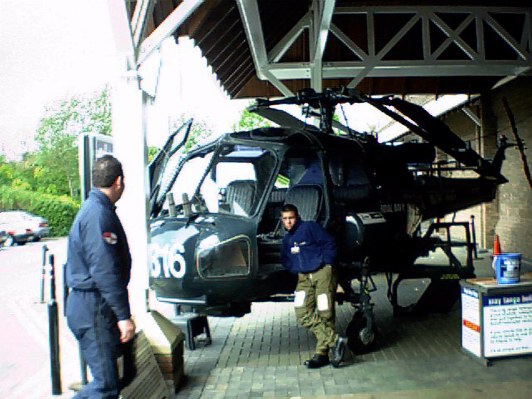 Another view of the Wasp at Rugby,its next port of call was to be Stratford On Avon.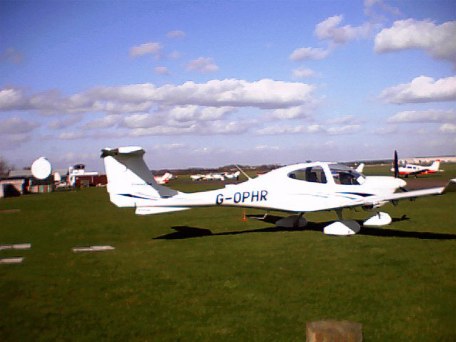 New shape in the Warwickshire skies is this beautifully finished Diamond D40 Star G-OPHR which spent a few days at Wellesbourne during March 2002.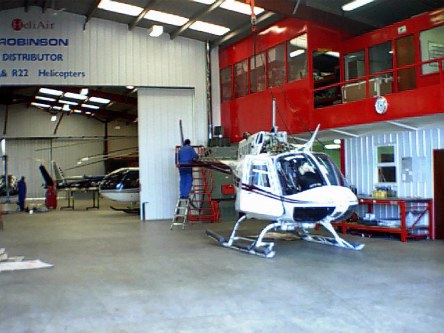 Busy as ever,Heliair were assembling this Jet Ranger from a newly delivered packing case during March 2002,still in big demand the Jet Ranger has seen sterling service all around the globe and a ready market exists here in the UK.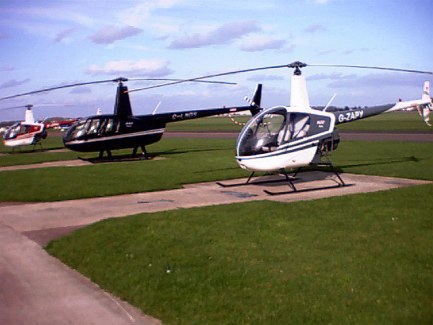 Busy ramp scene here at Heliairs base at Wellesbourne,with G-ZAPY,G-TRYG and G-OPAL
lined up for more flying.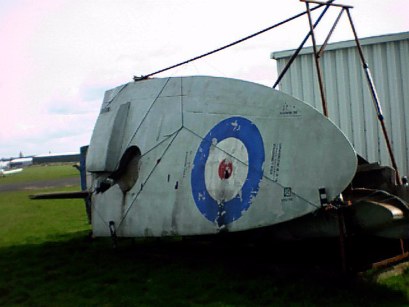 Currently stored at Wellesbourne is this replica Spitfire which was used in the Battle Of Britain film,they were made from the moulds which were obtained from a full size genuine example.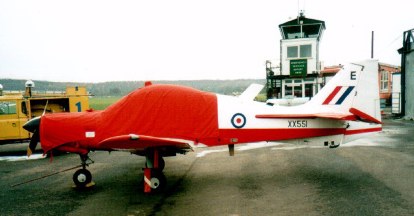 The Scottish Aviation Bulldog has been seen a lot in the Warwickshire skies recently following the demob of this aircraft from the RAF,aircraft have been stored at Shawbury and dispersed all over the world,Bulldog Support at Wellesbourne have acquired some of them and these are listed as follows-
XX551/E c/n BH120/244 is now G-BZDP shown above outside on 2.12.2001.
XX692 c/n BH120/341 became G-BZMH.
XX515/4 c/n BH120/201 became G-CBBC.
Two further aircraft have been used as a spares source,these are XX671/D c/n BH120/329 and XX634/T c/n BH120/304.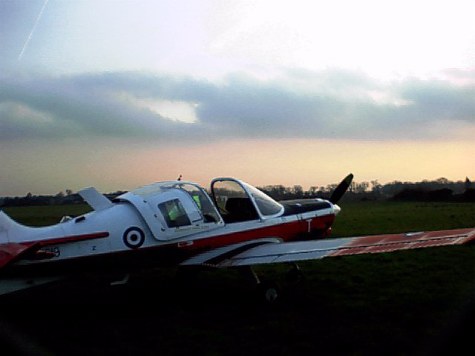 Atmospheric shot of Baginton based XX619/T which has become G-CBBW seen here on 20.12.2001 with its proud owner who tells me that the aircraft consumes some 12 gallons of fuel per hour,the machine is proving to be a superb touring aircraft.
Another as yet unidentified Bulldog is stored at Baginton in the Airpark hangars but is not yet airworthy.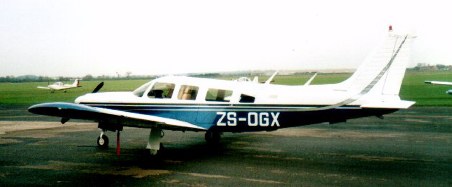 Very smart ZS-OGX South African registered PA-32R c/n 7780069 is now a new Wellesbourne resident.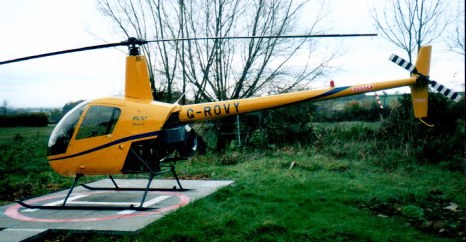 G-ROVY R-22 visited the heliport at Oxhill on 24.11.2001 from nearby Radway where its owner Richard Rice keeps the helicopter on his farm,at the weekends it is used to commute between here and a site at Shrewley.
Now a familiar sight at Birmingham International are the aircraft of JMC Airlines Ltd,shown here is G-FCLE a Boeing 757-28A taken on 5.6.2001 by Dave Peace.

Another regular visitor are the beautifully painted Airbus A330-243 aircraft of Emirates,this picture was taken at BHX on 5.6.2001 also by Dave Peace.
ROLLS ROYCE VIPER 50th Anniversary Display held at Baginton Airport 15.9.2001
This invitation only event was organised by Rolls Royce Heritage Trust to commemorate the anniversary of this reliable jet engine,a static and flying display incorporated the following aircraft-

Star performer was this Sea Vixen D.3 G-CVIX/XP924 which gave a spirited display of flying,this aircraft arrived in company with Meteor NF.11 G-LOSM/WM167 shown here on display together with other vintage jet gems-

Thanks to Dave Peace for covering this historic event for me ans providing the photographs accompanying this report-
G-AGTM Rapide,intended for pleasure flying but unable to fly due to crosswind off limits.
G-APRS Twin Pioneer,taxied across to southside static display
XL592 Pembroke,ditto
K3215 Avro Tutor,Shuttleworth Trust
PS853/G-RRGN Spitfire PR.19,coded 'C' based at Bristol
G-ETME /KG+EM Nord 1002
A92-903 Jindivik,arrived by road on a trolley
'0767' Argentine Navy former identity,Macchi MB339A partly assembled aircraft from RR Heritage Trust
G-IJYS Jetstream 31,Eastern Airways
'XD693'/G-AOBU Jet Provost T.1 prototype,coded 'Z-Q' port and 'Q-Z' starboard
'XJ771'/G-HELV Vampire T.55
XL573/G-BVGH Hunter T.7
XM479/G-BVEZ Jet Provost T.3A,based at Newcastle
'XM693'/G-TIMM Gnat T.1 (actually XP504)
XW293/G-BWCS Jet Provost T5,'W'
XW333/G-BVTC Jet Provost T.5A
G-BWGT Jet Provost T.4
G-BXFV Strikemaster 83
G-UNNY Strikemaster 87,ex Botswana Defence Force 'OJ4'
Other attractions included a splendid collection of Rolls Royce cars and Siddeley cars plus a display of static Viper engines.
Latest movements reports for Warwickshire can be read from the top of this page,to see other archived movements scroll down the page-
01-07-2001
G-DCMD Enstron F.28,Denham-Wellesbourne
G-CBIL Cessna 172,Compton Abbas-EMA
02-07-2001
G-BZIN R-44,Helicentre,with G-SIMN,G-OCOV,G-BZTJ R-22's
03-07-2001
G-TRCY R-44,p/site Newarke-Arrowmill Hotel,
Alcester
N554RB Beech E.55,Baginton
G-BZEI Agusta A.109,p/site Stapleford-p/site Kidderminster
G-TAMY Cessna 421,Turweston-Halfpenny Green
G-JBBS R-44,Belfry-Elstree
G-NSYT R-44,Gaydon-Uppingham
G-NEUF Jet Ranger,Baginton
LX-IMS Learjet,Baginton
G-FODI R-44,Denham-Gamston
04-07-2001
I-BENT Citation Excel 560XL,Baginton
G-HAUS Hughes 500,Sywell-Wellesbourne
VP-CFG Citation 1,Farnborough-Farnborough,through BHX zone
N41AK Beech F.90,Manchester-Turweston
G-MANN Gazelle,Battersea-Baginton
G-CHUM R-44,Wellesbourne
G-JWBI Jet Ranger,Wolverhampton-p/site Coventry
04-07-2001
G-BZEE Jet Ranger II,Chipping Warden p/site
N709AT Agusta A.109E,BHX
G-AVPJ Tiger Moth,Bericote Farm,Kenilworth
N620LH Twin Squirrel,BHX
05-07-2001
G-TGRS R-22,Staverton-Wellesbourne
G-OWRC Citation,Prodrive,Baginton
08-07-2001
AP-BCM Boeing 747,BHX
G-BYZR Sky Arrow,Wellesbourne
G-PIDG R-44,Wellesbourne
G-BUFG T-61F,Wellesbourne
G-BXWH Kit Fox Speedster,Wellesbourne-Baginton-Defford
EZ-A014 Boeing 757,Turkmenistan,BHX
09-07-2001
G-PEPL MD600N,Peplow-Baginton for training
13-07-2001
G-PLAM Jetstream J.31,Biggin Hill-Baginton
14-07-2001
G-ECZZ Eurocopter EC-120B
15-07-2001
D-ILAN Citation,Baginton
G-CEAJ Boeing 737,European,Baginton
N611VA A.109,BHX
G-BZRS Eurocopter EC.135,Baginton
G-LENI Twin Squirrel,Baginton
N818MJ PA-27,Baginton
G-OSMS R-22,Staverton-Baginton
G-BWLR Broussard,Staverton-Royton,Lincs
G-WOOF Enstrom Turbine,Joderal Bank-Baginton
G-TGRA A.109,Hammond House,Honily
N611VA A.109,Nuthurst Grange Hotel,Hockley Heath
17-07-2001
G-SKYC Slingsby T.67M,Bodmin-Sherburn
18-07-2001
HB-VMC Learjet 45,Baginton
21-07-2001
XW229 Puma,BHX
22-07-2001
G-NSYT R-44,Shobdon-Arrowmill Hotel,Alcester
G-CLEM Bolkow Junior,Shobdon-Baginton,combine with G-BOLZ Rand KR-2
G-BNZO Rotorway Exec,Wellesbourne
G-BSZC Beech C.45H,through BHX zone in formation with Harvard G-JUDI to strip at Bryngwyn Bach Farm,North Wales
23-07-2002
G-DMCT Flight Design CT2K Microlight
25-07-2002
G-JONH R-22,Nottingham-Wellesbourne
N502F CL600,BHX
G-LAIN R-22,Booker-Baginton
26-07-2002
N60526 Beech E-55,Enstone-Wellesbourne
G-OTHE Enstrom 280c-uk,Corley p/site
28-07-2001
G-AFCL BA Swallow,Shotteswell-Enstone
29-07-2002
G-BSIT R-22,Shugburgh-p/site Warwick
1.5.2001
G-KWLI Cessna 421,Lulsgate-Gamston
G-BZAM Europa,Shobdon-RAF Shawbury
G-BAML Jet Ranger,lifted off within Birmingham zone
D-BHAS DHC.8,Augsburgh airlines,BHX
3.6.2001
G-LAVE Cessna 172,Lyneham-EMA
LN-RCU Boeing 737,SAS,BHX
N709AT Agusta A.109,BHX,also on 6.6
G-BSRI Lancair,Liverpool-BHX
5.6.2001
N494LC CL604,Baginton
HB-FOQ PC.12,Baginton
F-BEQM MU-2,Baginton
6.6.2001
N65JF PA.28-161,Tatenhill-Wellesbourne
G-PRET R.44,Nottingham-Sywell-Wellesbourne
G-PERZ Jet Ranger,Wellesbourne-Leamington Hastings-Filton
G-SUMT R.22,Bruntingthorpe site
G-SWEL Hughes 369HS,Bascote-Baginton
9.6.2001
G-TGRA A.109,Epson-Tanworth in Arden-Hawarden
10.6.2001
G-LITZ Pitts Special,Leicester-Stratford Race course for display
G-IGPW EC.120B,Stoneleigh-Oxford
G-BCSA Chipmunk,Cosford-Bicester
G-TGRZ Jet Ranger,combine with G-JAHL through BHX zone
12.6.2001
G-AWEL RF4D,Halfpenny Green-Shennington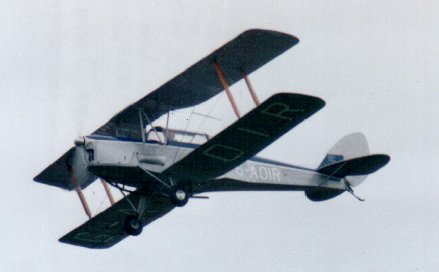 Baxterly,Charity Farm based Thruxton Jackaroo which dropped a parachutist over Warwick Castle 23rd June 2001,Ken Broomfield is the proud owner of this sole example now flying in the UK,many of the Tiger Moths so converted have been de-converted back to DH.82a standard making the breed very rare indeed.
Thanks to Dave Peace for the picture.
9.5.2001
G-JONH R22,DONCASTER-WELLESBOURNE
D-CMTM DORNIER 328,BHX
12.5.2001
N5730H PA-16 CLIPPER,STREETHAY STRIP
14.5.2001
G-BYCY SKY ARROW 650T,PRIORY FARM-BAGINTON
G-BSRX SHADOW,BAGINTON
15.5.2001
F-GGTJ GAZELLE AS341G,BAGINTON-LULSGATE
N7148R BARON,KEMBLE-BAGINTON
16.5.2001
G-LOUN SQUIRREL AS355N,HAYES-STONELEIGH
17.5.2001
N11FV CESSNA 303,JERSEY-LONDON-BHX
G-BOAM R22,CRANFIELD-WELLESBOURNE
G-TGRA A.109A,SHREWSBURY-PRIVATE SITE 2 MILES SE BAGINTON
G-BWDO S-76B,ELSTREE-TALLY HO POLICE TRAINING GROUND,PEBBLE MILL BIRMINGHAM
G-BZEI A109E,ELSTREE-WIGAN PRIVATE SITE
19.5.2001
N250TP A36TP BONANZA,TATENHILL-SOUTHAMPTON,WILLY CARSON JOCKEY
G-ECZZ EC-120B,HALTON PARK-BAGINTON
G-HMPH JET RANGER,P/SITE NEAR LUTON-BAGINTON
G-CHUM R44,TRING-WELLESBOURNE
G-EZEL GAZELLE 1,SURREY-BAGINTON
G-BPWI JET RANGER,GOODWOOD-BAGINTON
G-BYMB KATANA DA20-C1,WELLESBOURNE
G-JJLL R44,ROMSEY P/SITE-BAGINTON
G-AYCG STAMPE SV.4,BAGINTON
G-OHLL R22B,BAGINTON
G-BXJK GAZELLE 1,OLD STONE FARM-BAGINTON
G-JARA R22,CLACTON-BAGINTON
G-IDUP ENSTROM 280C,GODALMING-BAGINTON
G-JJLW R44,FURZLEY FARM-BAGINTON
G-BXSY R22,BRISTOL-BAGINTON
G-DADS HUGHES 369HS,STAVERTON-BAGINTON
G-AZVM HUGHES 369,BIRCHLEY FARM-BAGINTON
20.5.2001
G-BZSH ULTRA MAGIC H.77 BALLOON,NOLANDS FARM,OXHILL TETHERED FLIGHT
G-BYBZ JABIRU,BAGINTON
G-GAZA GAZELLE 1,DUDLEY-WELLESBOURNE
G-APJB PRENTICE,PLEASURE FLYING BAGINTON
G-XLTG CESSNA 182S,WELLESBOURNE
G-ATXZ BOLKOW BO.208C,TATENHILL-COMPTON-ABBAS
22.5.2001
D-CRIS ASTRA,BHX
G-OSOO HUGHES 369,BHX
S5-CER PARTENAVIA P.68,BHX
27.5.2001
G-USTB A.109A,HEATHROW-BHX
G-SCUR EC-120B,P/SITE LIVERPOOL-P/SITE RADWAY
28.5.2001
G-PASH SQUIRREL,BAGINTON-CORBY
29.5.2001
8Q-MAA DHC.6,WITH 8Q-MAH BHX
G-BXCA HAPI CYGNET SF-2A,FRENSHAM VALE FARM-WELLESBOURNE
3.6.2001
G-TOLY R.22,WELLESBOURNE
N4698W RC.114,GAMSTON-WELLESBOURNE
ZS-OGX PA.32R,WELLESBOURNE
G-BRGG SILVAIRE,LEICESTER-BAGINTON
G-BVTC/XW333 JET PROVOST T.5A,SPANDOE-HUMBERSIDE THROUGH BHX ZONE
G-UESY R.22,BHX
N709AT A.109,BHX
G-BSRI LANCAIR 235,LIVERPOOL-BHX
5.6.2001
N494LC CL604,BAGINTON
HB-FOQ PC.12,BAGINTON
F-GEQM MU-2,BAGINTON
LX-IMS LEARJET 45,BHX
6.6.2001
N65JF PA.28,WELLESBOURNE-TATENHILL
G-PRET R.44,SYWELL-WELLESBOURNE
G-PERZ JET RANGER,WELLESBOURNE-LEAMINGTON HASTINGS PRIVATE SITE-BRISTOL
N250TP BEECH A36,TATENHILL-YEOVILTON VIA BHX ZONE
G-SUMT R.22,TO BRUNTINGTHORPE PRIVATE SITE
7.6.2001
G-SWEL HUGHES 369HS,BASOTE PRIVATE SITE-BAGINTON
9.6.2001
G-TGRA A.109,TANWORTH -IN-ARDEN TO EPSON
10.6.2001
G-BXID YAK 52,FILTON-WELLESBOURNE
G-FZZA GENERAL AVIA F.22A,WELSHPOOL-BHX
G-IGPW EC.120B,STONELEIGH-OXFORD
N7530H PA-12,TO FARM STRIP STAFFS
11.6.2001
G-BYDB GROB G.115,TATENHILL-BAGINTON
12.6.2001
G-AWEL RF.4D,HALFPENNY GREEN-SHENNINGTON GLIDING SITE
14.6.2001
PH-ACI CESSNA 303,BAGINTON
G-BUVC JETSTREAM 31,BAGINTON
17.6.2001
G-BUWE/C9533 SE5A REPLICA,BAXTERLY-MIDDLE WALLOP
18.6.2001
G-GNTC SF.340A,BAGINTON
19.6.2001
LY-ANI YAK 52,LITTLE GRANSDEN-THRU BHX ZONE
G-SONF R400,SYWELL-WELLESBOURNE
G-TUGY DR400,BAGINTON
20.6.2001
G-AZVM HUGHES 369,SYWELL-BIRCHLEY FARM,CORLEY
21.6.2001
G-BZJJ R.22,BAGINTON-BANBURY
G-SSWA SHORT 330,BAGINTON
23.6.2001
G-AOIR JACKAROO,BAXTERLY-WARWICK CASTLE TO DROP PARACHUTIST
G-RONN R.44,COTSWOLDS SITE-BAGINTON
24.6.2001
G-ARYS CESSNA 172,LUDLOW STRIP-BAGINTON
G-PPPP KITFOX,MILSON-BAGINTON
26.6.2001
G-NOTY SCOUT,THRUXTON-WELLESBOURNE
27.6.2001
G-PERZ JET RANGER,BATTERSEA-LEAMINGTON HASTINGS PRIVATE SITE
G-BZJJ R.22,BAXTERLY AREA
28.6.2001
G-BYCJ CESSNA 206,HALFPENNY GREEN-LEEDS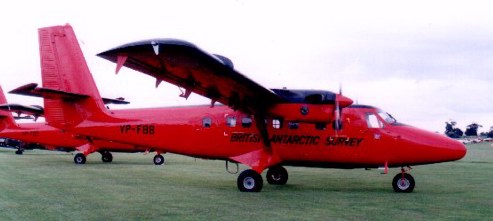 DHC.6-310 Twin Otters of the British Antartic Survey have frequented Baginton during September 2001 for open storage,here is VP-FBB together with VP-FBC visiting Old Warden on 6.8.2000 caught by Dave Peaces venerable roving camera.
4.3.2001
G-OSHL R.22B,SYWELL-WELLESBOURNE.
29.3.2001
G-WYSP R44A,WELLESBOURNE.
G-TRCY R44A,WELLESBOURNE.
N90BE MOONEY M20,WELLESBOURNE.
G-EGUL CHRISTEN EAGLE,WELLESBOURNE.
1.4.2001
G-IICM EXTRA EA.300,HAWARDEN-WELLESBOURNE.
G-MWGF RENEGADE SPIRIT,WELLESBOURNE.
7.4.2001
G-COMB TWIN COMANCHE,WELLESBOURNE.
G-BXNT JETRANGER,HONILY-BAGINTON.
N44DN MALIBU PA.46,BAGINTON.
G-LOYD GAZELLE 1,DERBY-STAVERTON THROUGH BHX ZONE.
G-OSFA SUPER DIMONA,ENSTONE-WELLESBOURNE.
8.4.2001
G-BXIM/WK512 CHIPMUNK,BRIZE NORTON-WELLESBOURNE.
G-BYMB DIAMOND KATANA,WELLESBOURNE.
G-PENT JET RANGER,LEICESTER-BAGINTON.
G-RAVN R.44,FAIROAKS-WELLESBOURNE.
N747MM PA.28,BAGINTON.
G-OPAT BEECH 76 DUCHESS,WELLESBOURNE.
G-BYTD R.22,TURWESTON-BAGINTON.
G-OFIL R.44,SOWER BRIDGE-WELLESBOURNE.
G-JACK CESSNA 421,LEEDS/BRADFORD-BHX.
G-LADI TWIN COMANCHE,BHX.
G-BYBK MURPHY REBEL,BOURNE-WELLESBOURNE.
G-TAME CESSNA 421,GUERNSEY-HALFPENNY GREEN.
10.4.2001
G-IFTS R.44,BHX.
G-BTYK CESSNA 310,JERSEY-MANCHESTER,THROUGH BHX ZONE.
G-BVTW PULSAR,WELLESBOURNE.
N19TW A.109,PRIVATE SITE OXFORD-P/SITE NE COVENTRY.
N139DB PA.23,SHEFFIELD CITY-WHITE WALTHAM THROUGH BHX ZONE.
G-BZSD PA.46,BAGINTON.
G-BTUZ AA.5,TOUSSUES LE NOBLE-SLEAP.
11.4.2001
G-BLYE SOCATA TB.10,BLACKPOOL-WELLESBOURNE.
LZ-NHA AN.26,BAGINTON.
ZA674 CHINOOK,BAGINTON FOR FUEL.
XZ939 GAZELLE,ETPS-BAGINTON.
G-PADS RC.114B,SHOREHAM-BAGINTON.
G-MOGY R.22,COMPTON ABBAS-WELLESBOURNE.
N747MM PA.28,BAGINTON,LANDING GEAR PROBLEMS.
EI-CFY CESSNA 172,THROUGH BHX ZONE.
G-SELY JET RANGER,JETBLACKPOOL-FAIROAKS,THROUGH ZONE.
13.4.2001
G-AFCL SWALLOW,SHOTTESWELL-ENSTONE.
23.4.2001
G-JCBI FALCON 2000,ILS RUNS BAGINTON.
G-GPWH FALCON 900,BAGINTON.
LX-SKS EMN.110,BAGINTON.
28.4.2001
G-XXIV JET RANGER,PRIVATE SITE SHIPDHAM-WELLESBOURNE.
G-BWCS/XW293 JET PROVOST,SANDTOFT-WELLESBOURNE.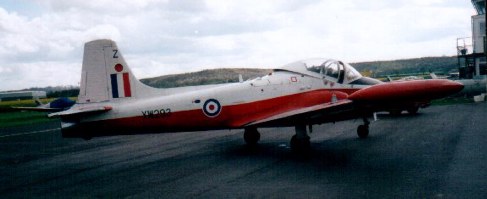 G-BZNG XAIR 700,WELLESBOURNE.
EC-HUH METROLINER,BAGINTON.
G-BXBZ WILGA,WELLESBOURNE.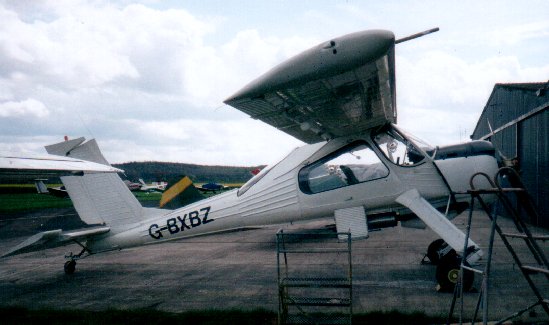 FLASHBACK-G-BTNS WSK PZL-104 WILGA 80 ,EX N71695 NOW BREIGHTON BASED WHICH APPEARED AT THE PFA RALLY AT CRANFIELD IN 1994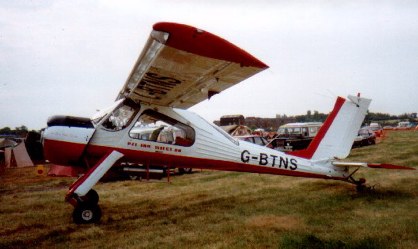 28.4.2001
ZS-OGX PA.32R-300,WELLESBOURNE.
G-BXDK BELL 412,THROUGH BHX ZONE.
G-BOVB PA.15,DUXFORD-HALFPENNY GREEN.
29.4.2001
G-SCHI SQUIRREL,WELLESBOURNE.
G-BYJF THORP T211,OVERFLEW WELLESBOURNE.
N1089D Hughes 369,BHX
30.4.2001
N709AT A.109,PRIVATE SITE WARTON-P/SITE HOOK NORTON
1.5.2001
G-GUCK Beech C23,Stapleford-Baginton.
N139JV RC.114TC,BHX-BAGINTON
2.5.2001
F-GEQM MU-2,BAGINTON
3.5.2001
ZA684 CHINOOK,BAGINTON
5.5.2001
N39TA BEECH C24R,WELLESBOURNE
G-DIXY PA.28,FOULMERE-WELLESBOURNE
6.5.2001
G-ONYX JET RANGER,OPERATING AT KIT CAR SHOW STONELEIGH WITH G-ELIT JET RANGER
G-AIDL RAPIDE,BAGINTON-DUXFORD WITH OTHER HISTORIC FLIGHT AIRCRAFT FOR CORPORATE FLIGHTS
G-NSEW R.44,PRIVATE SITE DERBY-BRIZE NORTON
7.5.2001
D-CVIP LEARJET 55,BAGINTON
D-AELG F.27,BAGINTON
G-FEBY R.22B,HALFPENNY GREEN-BHX
G-XTRR EXTRA EA.300/200,COMPTON ABBAS-BAGINTON
N20HJ BEECH H35,SHOBDON-ELSTREE
G-REAS VANS RV.6A,LEICESTER-SHOBDON
G-BOZU SPARROWHAWK MK.2,BAGINTON
G-XTEC R.44,BURTON-BHX
G-BZIN R.44,COLWYN BAY-BAGINTON
8.5.2001
D-FBFS TBM 700,BAGINTON
SPOTLIGHT ON WELLESBOURNE MOUNTFORD
THE FRIENDLY AIRFIELD.
ELEVATION:158 FEET
ARP:521132N 00/3652W
FREQUENCY:124.02 WELLESBOURNE INFORMATION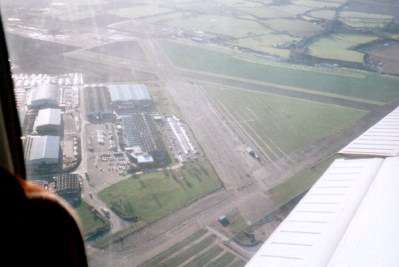 This view of Wellesbourne comes courtesy of Wellesbourne Aircraft Maintenance who kindly took me up to take the photograph myself,taken from Piper Warrior G-BTNE on 25.1.2001 it shows to good effect the typical wartime runway layout,herewith below I have prepared a runway and airfield layout.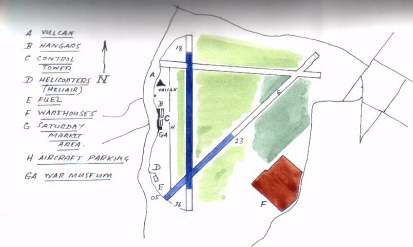 Operating hours of the airfield are from 0900 to 1800 daily however out of hours operations are normally accepted with prior notice,areas between runways are cultivated and visiting pilots are requested not to fly over Wellesbourne village.
The Wellesbourne Aviation Group have a museum here with a Vulcan B.1 XA903 nose section which was once the ex Avro trials aircraft,blue steel trials and Rolls-Royce Olympus and RB.199 testbed,WV679/7615M Provost T.1,XJ575/SAH13 Sea Vixen nose section,XK590 Vampire T.11,and a redundant Yak 52 RA-01378 ex DOSAAF coded 14 which was donated to them,a feature of the museum is the underground bunker which has been painstakingly restored following the removal of gallons of water,the museum is open weekends but please check for current opening times.
At point 'D' on the map you will see the location of the very successful Heliair organisation who are importers of the Robinson series of helicopters,they have a small car park where you can view the helicopter operations,like all of the organisations on the airfield they are a friendly bunch,please respect their car park.
The complete Vulcan B.2A XM655/G-VULC is very occasionally given a run down the runway and is sometimes open to view,it can be found near the Galair training organisation.
On Saturdays a large market is held on the eastern side of the airfield actualy using part of the old runway 23 which is used on occasions when the prevailing wind blows strong.
The Air Traffic controller during the week is Jonathon Simmonds who has worked at the airfield since he left school,here is a view of the tower (not the original which I am told started to sway!) with all the tools of the trade in front of him-
Herewith are a selection of Robinson helicopters phtographed at the Heliair end of the airfield,they arrive in very large plywood crates which are carefully unpacked,the helicopter is then assembled,rigged and test flown ready for the next customer-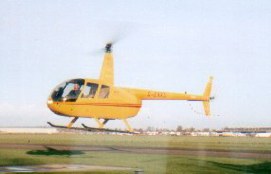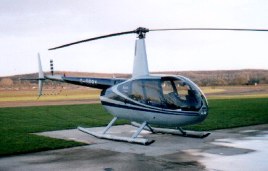 On the right is G-OBBY a brand new R.44, on the left is G-EKKO shown landing on 27.1.2001 from its base at Enterprise House,Hampton-In-Arden the helicopter is no more as it was written off at Wellesbourne on 2.9.2001,see details further on.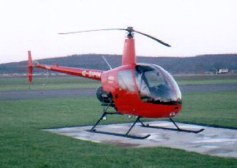 G-SIMN R-22 has been used both at Wellesbourne and Baginton during 2001-02 for training.
Pictured here at Wellesbourne on 27-01-2001.
(G-EKKO was sadly written off on 2.9.2001 when a student pilot got into problems in the hover and the tail struck the ground breaking off the boom,the helicopter spun like a top and was written off)

D.M.Squires Wellesbourne based Chipmunk 22 G-BBMO,one of many such aircraft that have been based here over the years,the aircraft looks most attractive in its all training yellow colourscheme and is part of the 'Squires Air Force',photograph by Dave Peace.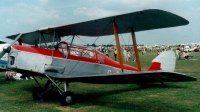 Earlier colourscheme used on Ken Broomfields Charity Farm strip based Thruxton Jackaroo G-AOIR,the aircraft was converted from a Tiger Moth aircraft R4972 and is a rare bird these days as most of the breed have been re-converted back into Tiger Moths leaving only two examples of the type flying in the UK.photographed at the PFA Rally in 1986 by Barry Clay.
AIRCRAFT MOVEMENTS ADDED HERE ON 1.5.2001-
22.3.2001
N90BE Mooney M.20K Wellesbourne
D-CCAS Shorts SH3-60 Baginton
F-GBLU Beech 90 Baginton
G-VBAC Shorts SH3-60 Baginton
23.3.2001
F-GEQM Mu-2B-60 Baginton
G-BGMO HS.748 Baginton
PH-FLM F.27 Mk.500 alson on 24.3
24.3.2001
G-TOSH R.22B With Heliair Wellesbourne
G-XPTS R.44 With Heliair Wellesbourne
OE-GSC Falcon 10 Air Ambulance Baginton
26.3.2001
N882JH Maule M.7 Baginton,from Henstridge
G-BAML Jet Ranger Baginton
PH-CTX Citation Baginton
24.1.2001
N2548T RYAN NAVION RANGEMASTER,BIRMINGHAM,FROM GUERNSEY,A RARE AIRCRAFT IN EUROPE.
2.2.2001
G-BXXV EUROCOPTER EC.135T1 THROUGH BHX ZONE
3.2.2001
G-UTTS R.44 WELLESBOURNE
G-BYKK R.44 WELLESBOURNE
G-AYSY CESSNA 177RG,TURWESTON-WELLSBOURNE
G-ARDB COMANCHE,BOOKER-WELLESBOURNE
G-TRDM TRINIDAD GT STAVERTON-WELLESBOURNE
7.2.2001
G-ATXZ BOLKOW Bo.208,TATENHILL-STAVERTON.
N23659 BONANZA TATENHILL-BIGGIN HILL.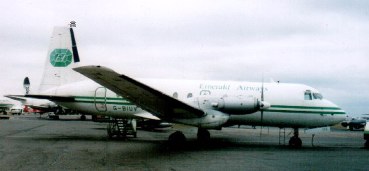 G-BIUV HS.748 EMERALD AIRWAYS,BAGINTON.
G-ETDA PA.28 DENHAM-LEICESTER-BAGINTON.
G-BYET CESSNA 172P FROM YATE-THROUGH BHX ZONE.
G-VRVG PA.38 CRANFIELD-BAGINTON.
G-EKKO R.44 WOLSTON SITE-WELLESBOURNE.
(This aircraft was written off at Wellesbourne on 2.9.2001 when the tail struck the ground during a low hover by a student pilot,the tail boom snapped off and the helicopter rolled over)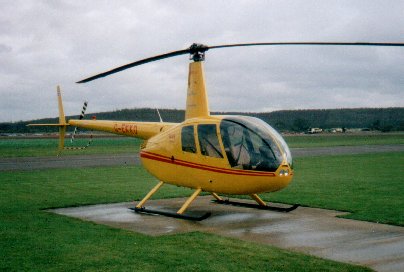 G-TRYG R.44 HONINGTON-WELLESBOURNE.
G-AZVM HUGHES 368HS SOUTHAM SITE-CORLEY SITE.
G-BZEI AGUSTA A.109E POWER BHX
D-IROL DORNIER (TYPE UNKNOWN?) BAGINTON
G-CSNA CESSNA 421 FILTON-BHX.
8.2.2001
G-TOYZ JET RANGER BLACKPOOL-BAGINTON THEN TO HALFPENNY GREEN.
G-OHHI LONG RANGER,COSTOCK-BAGINTON.
G-XPTS R.44 TATENHILL-WELLESBOURNE.
G-BTEK TRINIDAD TB.20 ENSTONE-WELLESBOURNE.
13.2.2001
G-ALXZ AUSTER 5-150 (LYCOMING 0-320) THROUGH BHX ZONE.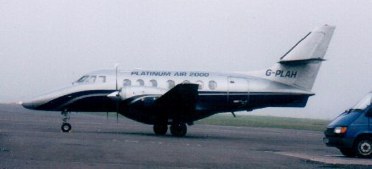 Interesting visitor to Baginton on 18.2.2001 was this Platinum Air 2000 J.31 Jetstream G-PLAH,photographed in the misty conditions that day.
Platinum Air have now ceased trading and the aircraft last seen parked at Blackpool.
18.2.2001 TURWESTON-A vintage aircraft rally was intended to have been held here,but due to poor visability nothing happened,however several interesting aircraft were present including these-
G-SVIP Golden Eagle,G-RCMC Renegade Spirit,G-JIMB Pup,G-YAKA Yak 50,N184CD Cirrus Sr.20,G-BTSZ Cessna 177 (ex N30332 on fin),N23360 Cessna 170,N45AW PA.28 Arrow IV,RA44533 Yak 50,with Mick Allen & Son Resprays were RA44473 Yak 52 and RA02090/10 Yak 50.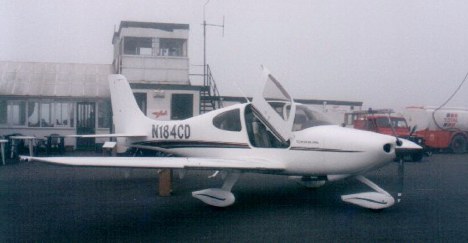 My thanks to Dave Peace for this report on Turweston.
20.2.2001
G-AXJJ PUP 2 DENHAM-NORWICH
G-BXVK ROBIN HR.200 SYWELL-HALFPENNY GREEN.
22.2.2001
G-VMJM TB.10 TOBAGO ENSTONE-TOUCH AND GO AT WELLESBOURNE THEN TO SYWELL.
G-DCSE R.44 BROADWAY-SITE NEAR NORTHANTS.
G-WHST AS.350B2 ISLE OF DOGS-BELFRY.
23.2.2001
G-KKES TB.20,ALDERNEY-LEEDS BRADFORD THROUGH BHX ZONE.
G-TPSL CESSNA SKYLANE,THROUGH BHX ZONE.
G-CPMK CHIPMUNK,KEMBLE-ASHBORNE.
G-ANAF RACAL DAKOTA,FLYING WITH NEW TAIL FILLET BELOW FUSELAGE,NOTED LEAMINGTON,WARWICK,EVESHAM AREAS.
24.2.2001
G-WARS PA.28,LONDON SCHOOL OF FLYING,WELLESBOURNE.
G-WARX PA.28,SHOBDON-WELLESBOURNE.
G-FOXA PA.28,LEICESTER-WELLESBOURNE.
G-VMJM TB.10,WELLESBOURNE.
G-HILT TB.10,WELLESBOURNE.
G-MRTN TB.10,WELLESBOURNE.
G-BHSY JODEL DR.1050,SYWELL-WELLESBOURNE.
G-TOLY R.22,WELLESBOURNE.
N2454Y CESSNA 172,WELLESBOURNE.
25.2.2001
G-XTRR EXTRA EA.300/200,HURN-BAGINTON (EX D-EVNO)
G-BXIA/WB615 CHIPMUNK,WELLESBOURNE.
N58093 MOONEY M.20K-231,BAGINTON (LIVES BETWEEN HERE AND GERMANY)
G-BXCZ AA.5A,WELLESBOURNE.
G-MZCA RANS S.6-ESD COYOTE II,TO AND FROM STRATFORD DISUSED
G-BKGC MAULE M6,WELLESBOURNE.
G-ROZI R.22,OVERFLEW BAGINTON CENTRELINE.
G-DCSE R.44,SITE AT BUCKLAND BROADWAY-WELLESBOURNE.
1.3.2001
G-TGRA A.109,SYWELL-SHOBDON.
2.3.2001
N7148R BEECH 55,BAGINTON,TO AEROTECH FOR MAINTENANCE,AIR SERVICES HOLDING CORP.
G-WHDP CESSNA 182S,THROUGH BHX ZONE.
G-USTB A.109A,THROUGH BHX ZONE.
N27MW BARON,FAIROAKS-BAGINTON.
G-TAXI AZTEC E,BAGINTON.
N425RR ROCKWELL 690A AEROCOMMANDER,BAGINTON,RAMI AVIATION INC TRUSTEE.
G-CLYS CESSNA T.303,BHX
ZH536 ISLANDER,'ASCOT 7990' NETHERAVON-WELLESBOURNE-BLACKPOOL.
G-OMAR PA.34,BHX.
3.3.2001
G-CHAV EUROPA,KEMBLE-WELLESBOURNE.
G-MYJP RENEGADE SPIRIT,WELLESBOURNE,'SPIRIT OF LUCK'
G-MVWZ MISTREL,WELLESBOURNE.
G-OTED R.22,DENHAM-WELLESBOURNE.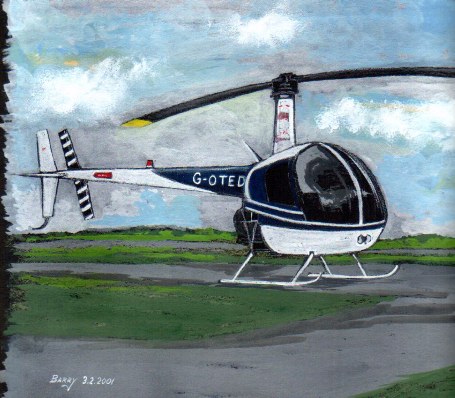 G-BWNI PA.24,POPHAM-WELLESBOURNE.
G-BSYU ROBIN R2160 ACRO SPORT,HINTON-WELLESBOURNE.
G-BWVZ/WK590 CHIPMUNK 22,WELLESBOURNE.
G-BRKO OLDFIELD BABY GREAT LAKES,WELLESBOURNE.
G-DMCD R.22,DENHAM-WELLESBOURNE.
G-BYME HORIZON,WELLESBOURNE.
4.3.2001
G-CWFZ PA.28,TATENHILL-BOOKER.
G-BXOZ PA.28,WHITE WALTHAM-WELLESBOURNE.
G-OFRT L188C,BAGINTON,CHANNEL EXPRESS.
G-AXNS PUP,BAGINTON-STAVERTON.
G-JUDE DR.400-180,KEMBLE-WELLESBOURNE.
G-RONN R.44 ASTRO,WELLESBOURNE-BAGINTON-HUSBANDS BOSWORTH.
5.3.2001
G-JUST BONANZA,WELLESBOURNE.
G-BYRT BONANZA,WELLESBOURNE.
G-BXUK R.44,WELLESBOURNE.
G-TRYG R.44,WELLESBOURNE-HAMPTON LUCY.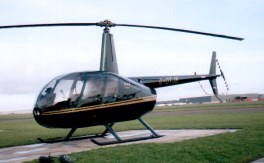 G-TRYG R.44 IN BLACK AND GOLD SHOWN HERE AT wELLESBOURNE
.
7.3.2001
G-TABS BANDEIRANTE,BAGINTON,SKYDRIFT.
G-BIUV HS.748 SRS 2A,BAGINTON,EMERALD AIRWAYS.
EC-GDV SA.226 MERLIN IV,BAGINTON.
N190PA GULFSTREAM 1,BAGINTON-SHANNON.
9.3.2001
D-ICRK SA.226 MERLIN,BAGINTON.
ZJ273 SQUIRREL HT.1 (AS.350BB),ABEAM BAGINTON FROM SHAWBURY LOW LEVEL.
G-TOSH R.22,BITTESWELL BUSINESS PARK-WELLESBOURNE.
G-BXER PA.46 MALIBU MIRAGE,OXFORD-BLACKPOOL THROUGH BHX ZONE.
10.3.2001
G-EGEE CESSNA 310Q,STAVERTON-LEICESTER-WELLESBOURNE.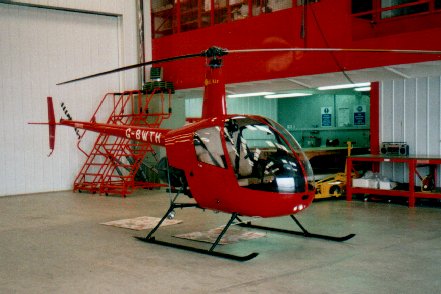 G-BWTH R.22,WELLESBOURNE.
(THE HELICOPTER WAS PREVIOUSLY REGISTERED N4025R AND HB-XVD)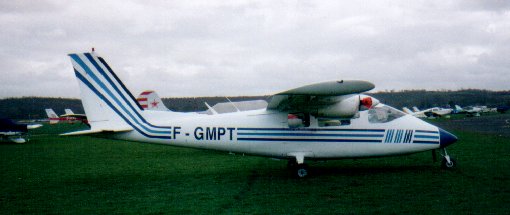 F-GMPT PARTENAVIA P.68,WELLESBOURNE,FROM GUERNSEY,FOR SALE. (The aircraft is ex PH-EEO,D-GATE,OY-CEY,G-PART)

The same aircraft with re-instated British registration at Wellesbourne on 2.12.2001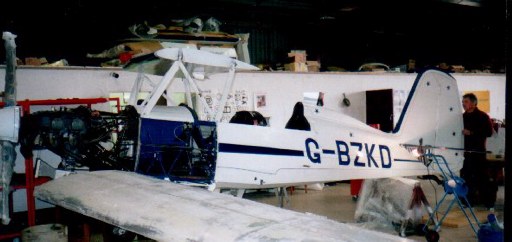 G-BZKD STOLP SA.300 STARDUSTER,EX N70DM,BEING ASSEMBLED IN HANGAR,ROADED IN FROM BELGIUM.
THE AIRCRAFT IS OWNED BY C AND P EDMUNDS FROM WELLESBOURNE.
G-XTRR EXTRA EA.300/200,NORTH WEALD-BAGINTON.
11.3.2001
XZ587 SEA KING HAR.3,LOW LEVEL ABEAM BAGINTON.
13.3.2001
G-MLTY AS.365N2,WELLESBOURNE-HUDDERSFIELD PRIVATE SITE.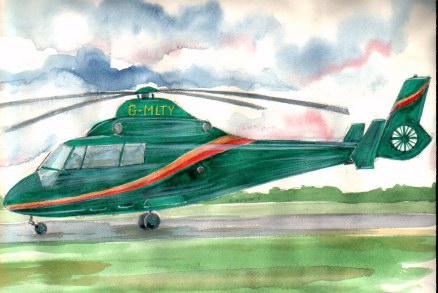 G-MLTY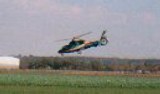 G-MLTY LIFTING OFF FOR HUDDERSFIELD.
G-EGUL CHRISTEN EAGLE II,WELLESBOURNE-BRIZE NORTON.
G-BUVA TRI PACER,WELLESBOURNE.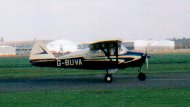 G-RAMI JET RANGER III,OXFORD PRIVATE SITE-DAVENTRY PRIVATE SITE.
14.3.2001
G-HARH S.76B,AIR HARRODS LTD,PRIVATE SITE SOUTHEND-PRIVATE SITE MANCHESTER,THROUGH BHX ZONE.
G-BXCB A.109A-II,CASTLE AIR CHARTERS,THROUGH BHZ ZONE.
G-DCSE R.44,ALDERNEY-BUCKLAND BROADWAY-WELLESBOURNE.
G-SAAB RC.112,FAIROAKS-? THROUGH BHX ZONE.
G-ATBW TIPSY NIPPER 2,STAPLEFORD TAWNY-WELLESBOURNE.
G-BNPH/WV740 PEMBROKE C.1,ILS RUNS BAGINTON,JERSEY BASED.
N822MC HUGHES 500E,ODIHAM PRIVATE SITE-BLACKPOOL PRIVATE SITE,THROUGH BHX ZONE.
11.3.2001
G-BYTM DYN AERO MCR-01 BANBI,BAGINTON,DELIVERY FLIGHT FROM CAMBRIDGE WHERE IT WAS ASSEMBLED BY SKYCRAFT FOLLOWING BEING ROADED FROM THEIR WORKSHOPS.(courtesy of their web site)
13.3.2001
VP-FBQ DHC.DASH 8,FAIROAKS/FARNBOROUGH-BAGINTON FOR OPEN SUMMER STORAGE,BRITISH ANTARTIC SURVEY.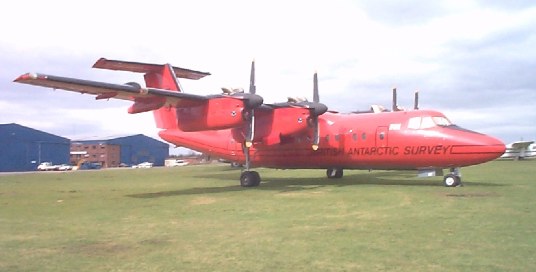 Picture courtesy of Ewen Taylor,Fleet 80uk.
15.3.2001
G-UILT CESSNA T.303,BAGINTON.
G-ROWN BEECH BE.200T,EINDHOVEN-BAGINTON.
D-ACCT FOKKER F.27,BAGINTON-FRANKFURT.
HB-IBG FALCON 900T,BAGINTON-GENEVA.
D-ICMF CESSNA 425,BAGINTON.
16.3.2001
ES-NOB ANTONOV AN-72 COALER,BAGINTON,CHANNEL EXPRESS CHARTER.(NIGHT STOPPED)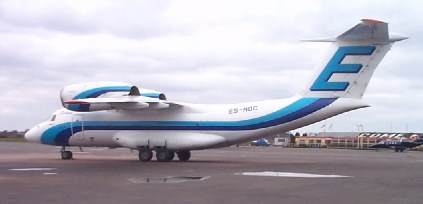 Picture shows ES-NOC one of three Antonovs now appearing on frequent visits to Baginton,my thanks to Ewen Taylor for providing this photograph.
18.3.2001
N6107Y RC.114B,BAGINTON-HURN.
19.3.2001
G-FLYN CESSNA 406,BAGINTON
N709AT A.109,BAGINTON,FROM SYWELL TO LE BOURGET.
G-BUGV T.61F VENTURE 2,WELLESBOURNE,FROM SHOBDON.
20.3.2001
G-FOGY R.22,SYWELL-BAGINTON.
G-AZMF BAC 1-11,BAGINTON-FORLI,EAL.
LX-IMS LEARJET 45,BAGINTON.
D-IBFT BEECH 200,BAGINTON.
XV211 C-130,R.A.F CREW TRAINING BAGINTON,TO LEEMING.
21.3.2001
G-FLVM CESSNA 501,BAGINTON.
LZ-NHA ANTONOV AN.26,BAGINTON.
25.10.2000
G-BSDU JET RANGER,DRAYCOTT WATER TO DROITWICH HELIPORT.
G-SCOW AS.355F-2,TO BATTERSEA.
N1065B BEECH 55,TATENHILL-MONA ANGLESEY.
G-SCBI TB.20 ENSTONE-CARLISLE.
G-MILT JET RANGER,BATTERSEA-LIVERPOOL.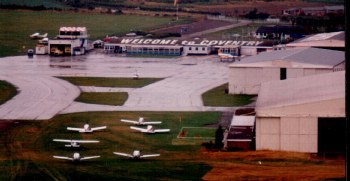 Coventry (Baginton) Airport from the air taken in 1986 from the Fuji Airship,if anyone has a more recent photograph than this then I will be pleased to hear from them as considerable changes to the apron have now taken place.Messages can be left in the guest book on the WORLD AVIATION page.
26.10.2000
G-BVTM CESSNA 152,RAF HALTON-WELLESBOURNE.
G-RVRA PA-28,LIVERPOOL-WELLESBOURNE.
G-FLYP BEAGLE 206,CRANFIELD-
G-MURY R-44,BATH-BAGINTON-WELLESBOURNE.
G-OGEE PITTS S2B LEICESTER-BAGINTON.
G-BTHA CESSNA 182,LEICESTER-BAGINTON.
G-BPYR PA-31,LEICESTER-BAGINTON FOR ILS RUNS.
G-PROD SQUIRREL,PRODRIVE BANBURY SITE-MIRA TESTING GROUNDS.
G-BKSS MASCARET,BAGINTON.
G-AZVM HUGHES 369S,TO PRIVATE SITE NEAR CORLEY SERVICES.
30.10.2000
G-PZAZ NAVAJO,AMBULANCE FLIGHT BAGINTON.
HB-IBH FALCON 2000,BAGINTON.
1.11.2000
G-WURL R-22,LEICESTER-WELLESBOURNE.
G-OSEE R-22,WELESBOURNE-CHIPPING WARDEN.
G-BTIS SQUIRREL,PHOTOGRAPHIC WORK OVER BANBURY AREA.
5.1.2000
G-DOOZ SQUIRREL 2,THROUGH BHX ZONE.
6.11.2000
N1874M GULFSTREAM,GFSC FINANCE CORP,BAGINTON.
7.11.2000
G-BZEI AGUSTA A.109,PRIVATE SITE AT SWINDON-P/SITE WIGAN.
G-BWHF PA-31,AWYR CYMRU CYF,GAMSTON-BHX.
10.11.2000
N4422P PA-23-160 GARION (APACHE CONVERSION) LITTLE STAUGHTON-BHX IN CONNECTION WITH YAK 18T RA81584.
G-BAGB SIA MARCHETTI SF260,BRITISH MIDLAND AIRWAYS,THROUGH THE BHX ZONE.
G-IZZS CESSNA 182 DIVERSION WELLESBOURNE DUE TO WINDSHEAR.
G-OFIL R-44,PRIVATE SITE 5 MILES SOUTH GLOUCESTER-STRATFORD SITE.
N6107Y RC114,TAMBOTI AVIATION INC TRUSTEE,BAGINTON.
15.11.2000
G-OCAA HS.125-700B,MAGEC AVIATION,LUTON-BAGINTON.
G-OVBJ JET RANGER III,AEROMEGA PIPELINE PATROL EVERY WEDNESDAY,LOW LEVEL BETWEEN SOLIHULL,CHURCH LAWFORD,THEN TO SILVERSTONE SOMETIMES LANDING AT BAGINTON.
N41AK KINGAIR,BAGINTON-DUBLIN.
N600RN MD600N,SHOREHAM -?
G-MAFF ISLANDER,LUTON-BHX.
N40386 BASSLER BT67 TURBO DAKOTA CONVERSION,BAGINTON,TO OSHKOSH USA NEXT DAY.
17.11.2000
G-MASS CESSNA 152,BAGINTON.
NIUK PA-28,BAGINTON.
G-BFBB AZTEC,HALFPENNY GREEN-CRANFIELD.
N818Y PA-30,TWO DAY VISIT TO BAGINTON.
G-BWAC WACO YKS.7,WELLESBOURNE.
19.11.2000
G-BVPR R-22,LEICESTER-WELLESBOURNE.
20.11.2000
G-BTDI R-22,BAGINTON,INTO SPACE LTD,NOW SOLD IN THE NETEHRLANDS.
22.11.2000
G-BPRI SQUIRREL,RAILWAY LINE PATROL COVENTRY AREA.
N176AF CITATION 650,GENERAL AIRCRAFT FINANCE CORP,OPERATED BY AIR ATLANTIQUE,BAGINTON.
G-BZEI A.109,PRIVATE SITE BICESTER-P/SITE WALSALL.
G-NJAG CESSNA 207,FAIROAKS-LIVERPOOL.
G-MILI JET RANGER,BAGINTON.
G-CYLS CESSNA T303,BAGINTON.
G-DANZ SQUIRREL,HAYES-DUBLIN,NIGHT FLIGHT.
25.11.2000
G-JETZ JET RANGER,ELSTREE-SITE NEAR TERNHILL CALLING FOR FUEL AT WELLESBOURNE.
26.11.2000
G-AZSZ AZTEC,WELLESBOURNE.
G-TGRZ JET RANGER,SYWELL-WELLESBOURNE.
N554RB BEECH BARON,BRUNTINGTHORPE-BAGINTON.
29.11.2000
G-FLPA BEECH A200,CALIBRATIOIN AIRCRAFT,NUMEROUS RUNS ACROSS WARWICKSHIRE THEN LANDED BHX.
N115VC R44 CLIPPER (FLOAT EQUIPPED VERSION) WELLESBOURNE,NORMALLY BASED IN GREECE.
1.12.2000
G-WHTS SQUIRREL,WELLESBOURNE-BAGINTON.
N92562 AA5,TO BLACKPOOL THROUGH BHX ZONE.
D-GAMA PA-44-180T,BAGINTON.
2.12.2000
G-BZEI A.109,PRIVATE SITE WIGAN-P/SITE WITHIN HEATHROW ZONE.
G-JENN AA5,BAGINTON.
3.12.2000
G-MELV RALLYE,STAVERTON-BAGINTON.
G-PPLH R-22,PRIVATE SITE BELPER-WELLESBOURNE.(SINCE SOLD ABROAD) FORMER DOLLAR HELICOPTERS FLEET
G-LORR PA-28 HALFPENNY GREEN-WELLESBOURNE.
G-ROZI R-22,PRIVATE SITE BELPER-WELLESBOURNE.
4.12.2000
RA-26044 AN-26B,AIR CHARTER SERVICES,BAGINTON.(EX CCCP26044)
6.12.2000
G-WARP CESSNA 182,ARMY PARACHUTE ASSOCIATION,NETHERAVON-SOUTH CERNEY.
16.12.2000
G-BSXD SOKO P-2 KRAGUJ,WELLESBOURNE (EX JRV-30146)
17.12.2000
G-DACS SHORT 330,AIR CAVREL,EMA-BAGINTON.
17.12.2000
G-BIUV HS.748 SRS 2A,EMERALD AIRWAYS,BAGINTON.
NOSTALGIC FLASHBACK TO 1968-The original Emerald Airways formed in 1967 flew De Havilland Herons and Short Skyvans based at Belfast the aircraft came to Baginton for their servicing,here are two of the Herons shown in the Emerald livery-
G-AOZN Heron 1B
was ex LN-SUD and became 9L-LAL with the Sierra Leone Selection Trust,it was rebuilt in March 1968 for Emerald and eventually sold in September 1976 as ZK-EJM.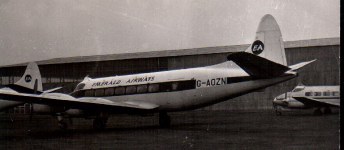 G-ALZL Heron 1
This much travelled aircraft was the very prototype of the Heron series and was virtually a modified Dove with pieces added to make it into the Heron prototype,initially sold to Jersey Airlines it served with a Japanese company for a while and became LN-BDH in April 1954,overhauled by Executive Air Engineering in January 1967 it joined Sudflug as OY-DGS until joining Emerald Airways for a short while,the eventual fate of this aircraft is that it was the subject of a legal wrangle in Australia and still lies derelict there,plans to bring it back to the UK to be looked after by The Shuttleworth Trust did not materialise and this historic aircraft will rot away.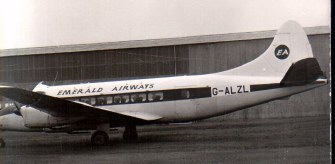 Dave Peace archive photograph.
G-BTXG JETSTREAM,HIGHLAND AIRWAYS,ABERDEEN,OPERATED BY AIR ATLANTIQUE AND ON MAINTENANCE THIS DATE IN HANGAR.
(Ex SE-FVP Flying Enterprise,delivered to Air Atlantique early 2000)
2001 2001
2.1.2001
G-RICE R-22 LIFTED FROM OWNERS SITE AT DRAYCOTT THEN TO BAGINTON.
G-BYFR SARATOGA,BAGINTON.
G-ONPA NAVAJO,TO HURN IN COMPANY WITH G-OBNA THROUGH BHX ZONE.
G-BWYO FRATI KIT BUILT FALCO F8L,BAGINTON.
G-OSCE CESSNA 421,SANDTOFT-BAGINTON.
N184CD CIRRUS SR20 BALLISTIC RECOVERY AIRCRAFT,BAGINTON ALSO OVERFLEW WELLESBOURNE ON 27.1.2001 (SEE SEPARATE NEWS ITEM)
G-SOHI AGUSTA A.109,ELSTREE-BAGINTON,TRI VENTURES GROUP.
G-FORS FIREFLY T67C,BAGINTON.
G-FORS CAUGHT AT TURWESTON BY DAVE PEACE ON 20.2.2000.
3.1.2001
G-COPT SQUIRREL,EMA-BATH-FAIROAKS.
G-OFIL R-44,DENHAM-WELLESBOURNE.
G-NSHR R-22,WELLESBOURNE-SHEFFIELD.
LY-APP YAK 18T,LEICESTER-WELLESBOURNE.
G-BXYK R-22,BAGINTON-WELLESBOURNE.
8.1.2001
G-OABR AA-5B TIGER,BAGINTON.
G-SSWP SHORT 360,STREAMLINE AVIATION,BAGINTON.
G-FITZ CESSNA 335,BAGINTON.
10.1.2001
G-BZMO R-22,THROUGH BHX ZONE, TO?
G-LIZZ PA-23,FARNBOROUGH-FAIROAKS.
G-MIND CESSNA 404,TO BLACKPOOL FOR CIRCUITS FROM BAGINTON.
12.1.2001
G-BZMG R-44,RAMSGILL AVIATION,THROUGH BHX ZONE.
G-EKKO R-44,WELLESBOURNE.
G-IRPC CESSNA 182Q,BAGINTON.
G-CYLS CESSNA T303,BLACKPOOL-ASOUTHAMPTON.
G-LARE PA-39,WOLVERHAMPTON-BHX.
G-FKNH VAGABOND,WELLESBOURNE (EX CF-KNH).
15.1.2001
HB-VJI LEARJET 31,BAGINTON (EX N3803G).
16.11.2001
T.17-3,'45-12' BOEING 707 SERIES 368C,SPANISH AIR FORCE GRUPO 45,TORREJON,SPAIN,VISITED BHX,ANOTHER EXAMPLE VISITED ON 14.1
OVERFLEW WARWICK.
G-TOSH R-22,WELLESBOURNE-LEICESTER.
G-BUVA PA-22,OAKSEY PARK-WELLESBOURNE.
G-AYRS WASSMER D120A,BAGINTON.
N95D PA-34,CRANFIELD-WELSHPOOL.
17.1.2001
G-LINC HUGHES 369HS,WELLESBOURNE-HALIFAX (EX C-FDUZ)
SE-DVZ CITATION 550B,BHX.
G-BHKJ CESSNA 421C,BHX,STOL CONVERSION.
G-VROE AVRO 19,TEST FLYING BAGINTON.
N26HE CESSNA 421C,KIDLINGTON-BHX.
G-SKYO SLINGSBY T-67M,BODMIN-GRANBY NORTH YORKS.
22.1.2001
G-OWRC CITATIONJET,BAGINTON.
G-CEXU L188C,BAGINTON,CHANNEL EXPRESS.
LX-PRA LEARJET 60,BAGINTON.
G-ZAPO BAE.146 SRS 200,BAGINTON,TITAN AIRWAYS(EX G-PRCS,VH-NJQ,G-BWLG,F-GMMP)
25.1.2001
G-IICM EXTRA 300L,'CHARLIE MACAW II' HAWARDEN-WELLESBOURNE,LOCAL FLYING ALL DAY.
G-IICM EXTRA 300L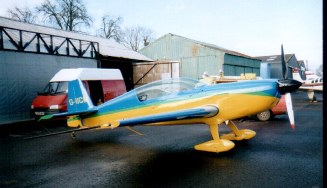 'CHARLIE MACAW II'
9L-LCD LET 410,BRUNTINGTHORPE-WELLESBOURNE FOR CREW TRAINING.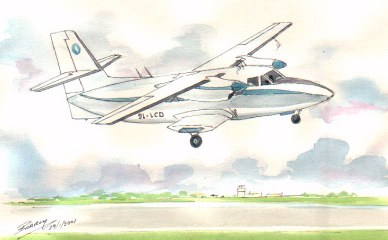 Sketch by Barry Clay of the aircraft seen making an approach in blustery conditions at Wellesbourne on 25.1.2001.
The two LET 410UVP aircraft were imported in September and December 1999 via Stapleford and eventually turning up at Bruntingthorp[e airfield for open storage,C5-LES c/n 810611 is ex UR67010 and C5-LET c/n 831036 is ex UR67408,known as the Turbolet they are a rare bird in the UK.
this photograph was taken at Bruntingthorpe on 29.10.2000 by Dave Peace.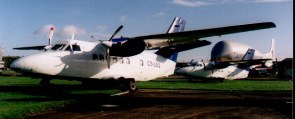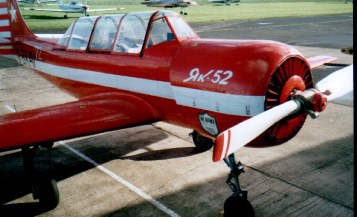 G-BXAV YAK 52,WELLESBOURNE.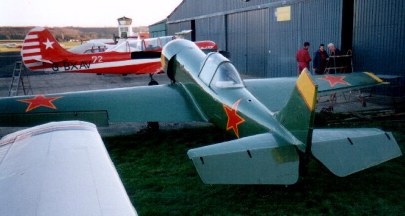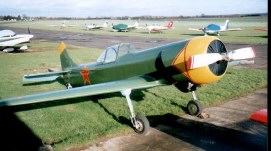 G-BXAV YAK 52 IS EX DOSAAF 73 AND RA-01325 SEEN HERE AWAITING MAINTENANCE AT WELLESBOURNE ON 25.1.2001
Resident at Wellesbourne for a while now pending the renewal of its fabric control surfaces is this Yak 50 RAO/293 which will be used for air racing,the aircraft is normally based at Leicester.Photographed here at Wellesbourne on 25.1.2001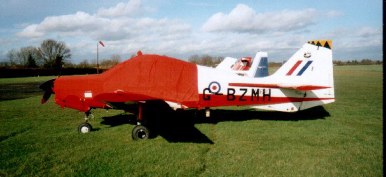 G-BZMH BULLDOG T.2 CODED 'A' EX BRISTOL UNIVERSITY AIR SQUADRON/3 AIR EXPERIENCE FLIGHT WAS BASED AT COLERNE,FERRIED TO RAF NEWTON FOR STORAGE (NOTED THERE ON 29.3.2000) SOLD AT PHILLIPS AUCTION TO NEW OWNERS AT HARBOURNE,BIRMINGHAM,THE BLACK AND YELLOW FIN TIP IS THE MARKINGS OF BRISTOL UNIVERSITY AIR SQUADRON.
G-BZMH/XX692 BULLDOG SRS 120,WELLESBOURNE,FOR CONVERSION.
G-AOFS AUSTER AIGLET TRAINER,WELLESBOURNE.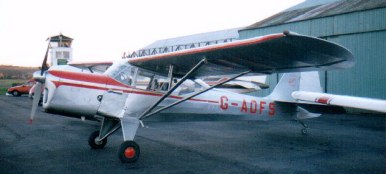 G-AOFS AUSTER J/5L AIGLET TRAINER IS EX EI-ALN ON THE IRISH CIVIL REGISTER,ITS CONDITION IS IMMACULATE.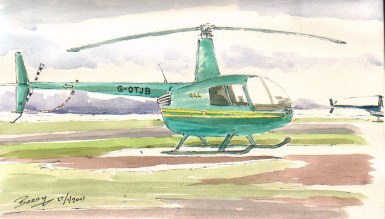 G-OTJB R-44 of Heliair sketched on 27.1.2001 at Wellesbourne.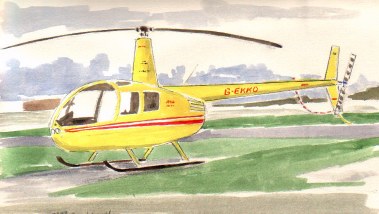 G-EKKO R-44 owned by D.Eliot and sketched at Wellesbourne 27.1.2001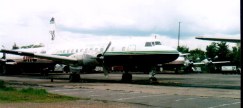 Convair 440 CS-TML seen here in its short lived Atlantic Airlines livery which was later changed to Agroar Cargo due to Portuguese civil aviation rules,both pictures were taken on 21.5.2000 at Coventry,the aircraft has recently undergone an engine change and been seen compass swinging.History is delivered 29.7.59 to Mohawk Airlines as N4402 with c/n 484,it is also ex N357SA,N28KE,N28KA,N4402.
with thanks to Dave Peace for the use of these photographs.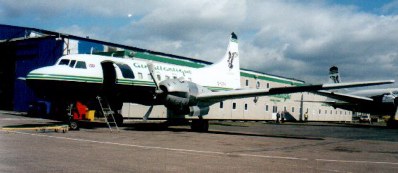 Repainted in full Air Atlantique livery as G-CONV at Baginton 10.9.2001 the aircraft caused a stir in November 2001 when one engine failed over Rugby and the aircraft landed safely back at Baginton
26.1.2001
N383DB PA-46,EMA-BAGINTON.
G-DCSE R-44,WELLESBOURNE FOR CIRCUITS.
G-MALA PA-28,LEICESTER-KEMBLE.
G-POAH SIKORSKY S-76B,BATTERSEA-SOUTHAMPTON DOCKS,P&O AVIATION.
G-BXTP DIAMOND KATANA DA20-A1,THROUGH BHX ZONE.
27.1.2001
LY-AOB YAK 52,KEMBLE-WELLESBOURNE-KEMBLE,SHORT STAY.
G-BAFU PA-28 HUMBERSIDE-BAGINTON.
G-GSFC R-22,REDHILL-ROYAL SHOWGROUND STONELEIGH.
G-OPAL R-22,WELLESBOURNE.
G-BVPR R-22,WELLESBOURNE.
G-OTTS R-44,WELLESBOURNE.
G-BKHM HUGHES 269,WELLESBOURNE.
G-LUXI R-44,WELLESBOURNE.
G-TRAC R-44,WELLESBOURNE.
G-ROVY R-22,WELLESBOURNE.
G-BYKK R-44,WELLESBOURNE.
G-OTJB R-44,WELLESBOURNE.
G-EGLD CADET,WELLESBOURNE.
G-TRYG R-44,WELLESBOURNE.
G-SIMN R-22,WELLESBOURNE (USED FOR FIRST SOLO)
G-BXIM/WK512/A CHIPMUNK,ARMY COLOURS,WELLESBOURNE.
G-HAMI FUJI FA.200,WELLESBOURNE.
G-EXAD R-44,WELLESBOURNE.
G-OFIT TB.10,WELLESBOURNE.
N2943D PA-28RT-201,BHX.
N184CD CIRRUS SR20,THROUGH BHX ZONE.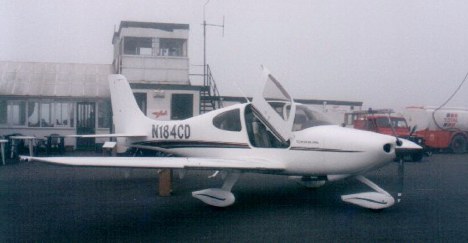 Photographed on a gloomy day at Turweston on 18.2.2001 by Dave Peace is this Cirrus N184CD which has been very active in the area of late.
G-OBBY R-44,WELLESBOURNE.
G-JDVO PA-28,TURWESTON-WELLESBOURNE.
G-ARYZ AIREDALE,TURWESTON-WELLESBOURNE.
G-EKKO R-44,WELLESBOURNE.
G-OWND R-44,WELLESBOURNE.
G-IZZS CESSNA 182P,WELLESBOURNE.
29.1.2001
PH-BRL EMBRAER EMB-120RT,BUSINESS AVIATION SERVICE,EINDHOVEN-BAGINTON.
G-BXXV EUROCOPTER EC-135T-1,TRANSITTING BHX ZONE,EXTERNAL NOSE CAMERA.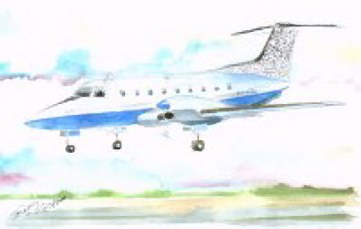 PH-BRL from a painting by Barry Clay landing at Baginton.