WINGS OVER WARWICKSHIRE


Use the navigation bars above to find your way around,simply click onto the respective page,allow plenty of time to download as the pages are crammed with information and plenty of photographs-

CHECK OUT THIS PAGE FOR RECENT UPDATES TO THIS SITE,UPDATED ON Tuesday 01-10-2002.

EXPANSION PLANS AT COVENTRY REVEALED.
Plans are afoot in a bid to expand the existing airport at Coventry (Baginton) Airport,details were revealed and outlined despite the controversial plans to build a new airport in the area at nearby Kings Newnham/Church Lawford,this in itself would involve the flattening of a very large area of land and the uprooting of a large number of people which understandably is causing much concern locally.
Anew passenger terminal is on the books at Coventry together with a serious attempt to try and attract a budget type of airline to begin operations from here,this in itself is a long overdue move.
Plans will be submitted to Warwickshire County Council within the next few months for the new passenger terminal which it is said will cater for four to six flights per day increasing to ten by the year 2004.
The idea seems to be that Coventry will operate as an annexe to Birmingham airport and they are keen to develope the existing airport as a way of complementing rather than competing with the airport at Birmingham,it also reveals plans to extend the existing runway by a further 300 metres to the West in order to cope with a wider variety of aircraft types,at the moment aircraft up to the size of the Boeing 757.
When asked about the plans to create a new airport nearby the airport spokesman dismissed these as a complete non starter,lets hope he is right as the opposition is very strong against this move in the area.
OUTRAGED HELICOPTER PILOT GOES TO JAIL
Warwick Crown Court 12-04-2002-
Following a dispute with the airport manager at Coventry airport a helicopter pilot commenced a trail of terror for airport staff during October 2001,what has been described as a sick parody of September 11th.
Following the loss of his medical certificate the accused had been banned from the airport and when the pilot arrived during October by helicopter he landed at the intersection of the main runway calling over the intercom 'This airport is closed' this caused immediate havoc as a Cessna in the circuit had to pull up to avoid hitting the helicopter.
He then proceeded to fly towards the control tower hovering very closely from the large glass window and started to shout again over the radio 'You are now going to see the worst of my flying' barely coherent he then flew around the tower lowering the nose of the helicopter as if he was going to ram the buildings,by this time the staff fled the tower fearing for their lives,a resident flying instructor described the antics of this pilot as 'An act of terrorism'
The pilot was jailed for three years following being found guilty of endangering the safe operation of the airport and recklessly causing an aircraft to endanger people.
PILOT JAILED FOR DRUG SMUGGLING
On 3.12.2001 pilot Durk Venema from Bailum in the Netherlands took his employers (T.R.Van Der Meulen) Cessna 182 (PH-JSA c/n 18260367) without permission filling it with more than £300,000 worth of cannibas,filed a flight plan to Birmingham International but changed his mind in flight after panicking and opted for Wellesbourne airfield in Warwickshire.
These actions alerted Birminghams controllers who directed the him to Baginton airport in order to clear customs,when he landed and was questioned about his flight he admitted that there was 99 kilos odf cannabis on board,the aircraft was seized together with the cache of drugs,it is understood the pilot was to get more than £11,000 for the trip but things went terribly wrong on his change of flight plan.
As the authorities have pointed out on many occasions enthusiasts can be of great help in alerting the police of any suspiciousd flights especially those terminating at remote airstrips,these flights are usually undertaken at very low level below radar although they are detectable under the right conditions,the cargo dropped or landed and the flight continued with,this has happened twice in the past year with consignments being dropped at Walkeridge farm,Hampshire where the passenger fell into the propeller off the wing of a Grumman AA-5 and at Baxterly airstrip in Warwickshire where the pilot was also caught flying a Cessna 182 aircraft.
LOCAL BANGS AND PRANGS Information extracted from the Air Accident Investigation Branch bulletins.
13-04-2002 OY-JRW GAF Nomad crashed when it failed to get airborne from RAF Weston-On-The-Green airfield in Oxfordshire,three or four parachutists on board where injured but are now out of hospital.
30.5.2001 G-BGFT Piper PA.34 Seneca belonging to CSE Aviation made a wheels up landing at 22.OO hours at Baginton airport,the runway was blocked for two hours and aircraft were diverted to Birmingham airport.

G-BXRL/XT630 Scout AH.1 formerly based at Charity Farm,Baxterly fell into the quarry at Mancetter,Nuneaton in 1999 following apparent engine failure,the helicopter was finally salvaged by crane and now appears on display outside a shop in the Midlands,this photograph was taken by Dave Peace at Tatenhill PFA rally on 20.6.99
DAKOTA NEWS-
G-AMYJ RETIRED TO YORKSHIRE AIR MUSEUM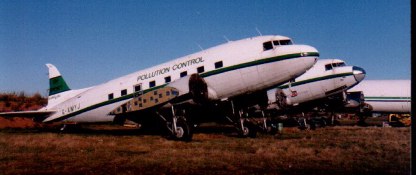 G-AMYJ DAKOTA 6 made its final journey on 18.12.2001 in a convoy of two low loaders heading to the Yorkshire Air Museum at Elvington,the aircraft was dismantled at Baginton by the Smash and Crash team from RAF St Athan and was loaded up making the two hour journey North to be lovingly retired and cared for by the enthusiastic members.
Once part of the Jersey Airlines fleet 'Mike Yankee Juliet' has had a very busy and full life and it is a good candidate for preservation.
Built as a C-47B-25DK military specification 44-76384 for the US Air Force with c/n 15968/32716 it was used for military trooping flights with the serial XF747 and later became KN353 and then for a spell as SU-AZF in Egypt,the aircraft served with the Air Atlantique Pollution Control fleet in whose colours she appears above at Baginton on 15.6.97 after accumalating some 30,000 hours of flying!
Former Air Atlantique Dakota G-AMPZ has been sold in Germany following ferrying to Southend for respray,G-AMPO another Air Atlantique Dakota was taken by road to RAF Lyneham on 22.9.2001 for possible display there.

G-AMPZ was painted up as KN442 to represent an aircraft of the Berlin air lift period,the aircraft has now been repainted silver at Southend and sold to Air Service Berlin l;eaving Baginton on 28.9.2001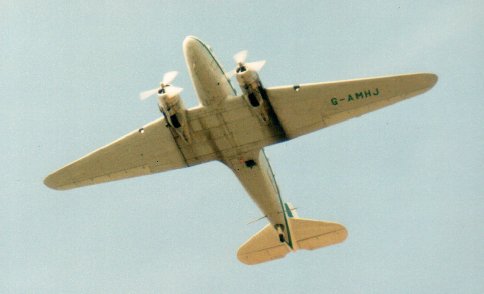 G-AMHJ Dakota fitted with pollution control equipment shown here at Baginton on 14.7.89,the former MPCU aircraft are now lying derelict northside of Baginton minus engines and control surfaces,the days of the Dakota in Air Atlantique service are now fast drawing to a close.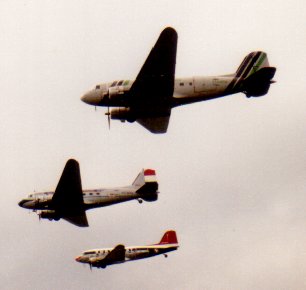 Historic photograph of G-AMRA,PH-DDA,G-AMPY flying in formation over Baginton 25.5.86 at an airshow organised by Air Atlantique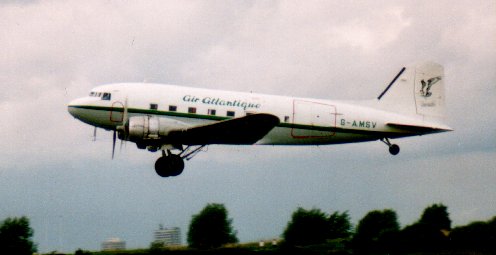 11.11.2000 Douglas Dakota G-AMSV was used to drop poppies over a war memorial at Nuneaton,on returning to Baginton one of the crew members who was a qualified parachutist decided to jump out of the aircraft,on contact with Coventry Air Traffic control the flight crew requested to 'come overhead at 1,000 feet and throw one of our passengers out' because of the informal nature of the request they initially regarded it has a joke,the aircraft eventually made a pass across the airfield with one quarter flap lowered and the parachutist exited striking his left arm on the aircraft and breaking it (possibly hitting the spraybar as the aircraft was normally used for pollution control work) the decent became violently unstable and he struggled to regain stability before releasing his parachute,with the height rapidly decreasing he attempted to release his reserve chute but once again found difficulty in doing so and resorted to deploying the main parachute but this was made impossible by the low height of 200-300 feet and he eventually landed on his back on top of a hangar roof sustaining injuries to his ribs and internal organs.
9.8.2000 Baginton,G-BYBZ Jabiru SK,right wing lifted during taxi for take off in crosswind conditions,aircraft tipped forward and propeller struck the ground.
13.11.2000 G-BWVG Robin HR200/120B was damaged beyond repair when it forced landed 2 miles south of Caernarfon airport due to fuel starvation when it is believed the fuel cock was accidently knocked to the off position,the aircraft was part of the Air Atlantique training fleet at Baginton and recently suffered a forced landing at Draycott Water due to a loosening of the cylinder head.
7.2.2000 Agusta A.109C of Irvine Aviation had to make a forced landing near Baginton due to vibration problems caused by a loosening of one of the rotor tip caps which failed in flight.
1.7.2000 G-JEAP F.27/500,Over ran runway at Baginton,parts used on G-CEXG
28.8.2000 N88PL Piper PA-46 Malibu lost power on take off from Grove Fields farm strip,Wasperton the aircraft landed ahead going through a fence into the next field,a previous accident similar to this one occured in August 1999. Pictured at Wellesbourne on 11.4.99 Dave Peace took this photograph of this sleek high performance executive aircraft.
Pictured at Wellesbourne on 2.12.2001 following work by RGV Aviation at Staverton during April and August N88PL looks fit and well despite her ordeals at the Wasperton airstrip,she is a model PA-46-310P c/n 46-8508099.
30.7.2000 G-AWWN Jodel DR1050 struck a small tree at Baxterly airstrip during a go round damage to the aircraft included the lower wing,aileron and pitot head.
WORLD AVIATION MISHAPS
2.6.2001 Venom FB.50 G-GONE flown by Clive Rustin made a belly landing at Biggin Hill,pilot unhurt.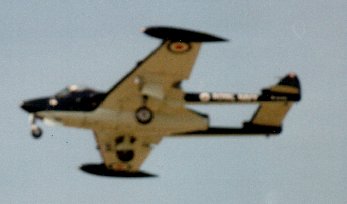 Venom FB.50 in trouble at Biggin Hill 2.6.2001
3.6.2001 The Fighter Collections Bell 63A Kingcobra G-BTWR stalled,flipped inverted and spun in at Biggin Hill,British Airways Captain Guy Bancroft Wilson was killed in this terrible accident,a bleak weekend for vintage aircraft.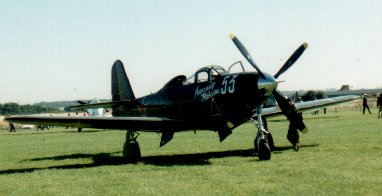 N62822 The Fighter Collections first RP-63C-5BE Kingcobra which also crashed on 4.6.90 catching fire near Paris killing John Lancombe,this picture was taken at the the Confederate Air Force airshow at Baginton on 6.8.88.
WORLD AVIATION NEWS 3.3.2001 AIR NATIONAL GUARD C-23 SHERPA (SHORT 330) CRASHED INTO A FIELD NEAR UNADILLA,30 MILES SOUTH OF MACON,USA,WITH THE LOSS OF 21 LIVES SHERPA C-23 (U.S Dept of Defence photograph)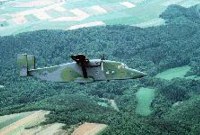 3.3.2001 THAI BOEING 737 BURST INTO FLAMES ON THE TARMAC AT BANGKOK,ONE PERSON A CREW MEMBER KILLED,AIRCRAFT WAS BEING REFUELLED AT THE TIME.
NEW AIRCRAFT RESIDENT IN THE WARWICKSHIRE AREA. This was updated on 4.3.2001 G-AVLT PA-28-140,L.I.Bailey,Wellesbourne G-BPNL Quickie Q2,J.R.Benson,Longbridge G-BXLX Enstrom F.28F,Dixons Developments,Coventry G-BZLY Grob G.109B,M.Tolson,Husbands Bosworth G-HAIR Robin HR.400-180 Regent,Racoon International and Arden Ridge Developments,Coventry G-HURN Robinson R22B,R.M.Weyman,Coventry G-LYNC Robinson R22,Whirlybirds Ltd,Birmingham G-RAYC Robinson R44,Whirlybirds Ltd,Birmingham G-BVNL RC.114 S.J.Healey & G.S.Lockyer,Birmingham G-FTIM Robin DR.400,M.S.Bird,Wellesbourne G-EAGL Cessna 421,Moseley Group & Clowes Estates,Birmingham G-MELV Rallye Gabier,J.W.Busby,Bidford/Bickmarsh G-MWSI Pegasus Quaser,J.A.Ganderton,Turweston G-OMJB Jet Ranger,Hanroe Ltd,Wellesbourne G-PROD Eurocopter AS.350B2,Softbreeze Ltd,Banbury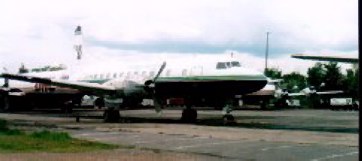 Convair 440 CS-TML seen here in its short lived Atlantic Airlines livery which was shortly afterwards changed to Agroar titles due to Portuguese civil aviation rules,the aircraft had recently undergone an engine change and has been seen compass swinging at the airport,history is delivered 29.7.59 to Mohawk Airlines as N4402 with c/n 484,it is also ex N357SA,N28KE,N28KA,N4402 thanks to Dave Peace for the use of this photograph.