What was once a common sight over the Warwickshire countryside were the Varsities of 2 Air Navigation School based at Gaydon,the based closed in the 1970's and moved to Finningly.

This aircraft is WF325/G and was ex J,the aircraft joined the Leuchers fire dump around 1971,the original G was WJ909 which was seen at Gaydon on 16.9.91 credit for this historic photograph goes to Dave Peace.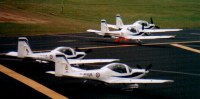 Now becoming a common sight over Warwickshire are the Grob 115E Tutor aircraft operated by the University Air Squadrons,this group here were taken at Cottesmore by Dave Peace on 24.7.2000.