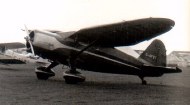 The Stinson Reliant has local historical connections at Baginton as an example registered G-AFRS (W7978) was used with No 2 special camouflage unit based at Baginton in 1940 ,this was no doubt used in connection with the protection of local aircraft factories in connection with the war effort,the machine above is non other than Fairey Aviations old hack aircraft G-AFVT which was eventually sold in the States as N5913.


To show that the Air Atlantique Historic flight aircraft are no museum pieces gathering dust,the opportunity was taken to fly the Avro 19 and Devon to the Sudan in the year 2000.

This remarkable flight for a duo of vintage aircraft was taken so that Gulfair could use the aircraft for their celebrations as both aircraft were used by Gulf Aviation the companies former title.Note the legend -AIWX the missing letter 'G' is intentional as this was the only way the period registration marks could be used over the UK,this is the result of a tightening up by the authorities on the practise of displaying registration marks which were never used by a particular aircraft,this picture was taken at the open day at Birmingham International airport in the year 2000 by Dave Peace.

(A larger photograph of this aircraft appears in the Focus on type section on this page which features the Avro 19 aircraft)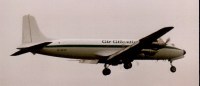 G-SIXC DC-6A Seen in its early colourscheme landing at Baginton.