AVIATION CLASSICS

WHAT IS A CLASSIC? A CLASSIC IS A MACHINE THAT HAS MADE ITS MARK IN HISTORY,AND IN SOME CASES BECOME AN HOUSEHOLD NAME,HOWEVER MUCH LESSER KNOWN CLASSICS HAVE APPEARED AND IT IS ALSO INTENDED TO COVER SOME OF THESE ON THIS PAGE......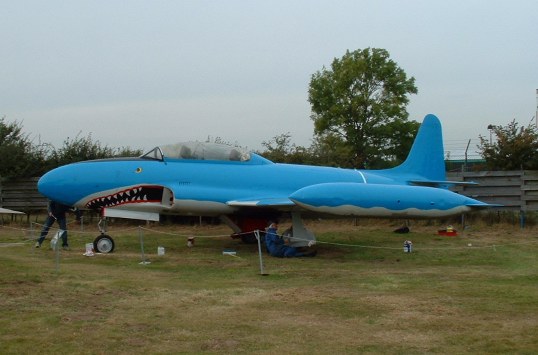 Old Aeroplane with a new colourscheme ! Midland Air Museum have revamped one of two of their T-33A-LO jets,this one is the ex Cosford French Air Force example 17473, which will be painted in authentic RCAF sharksmouth colours when the job is fully completed,a few gallons of Dulux and some paint rollers coupled with willing hands have revitalised and protected this lovely vintage jet aircraft.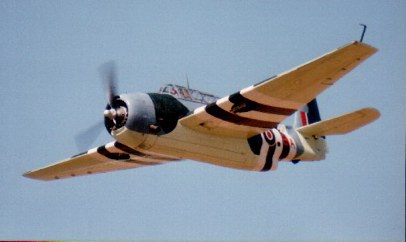 The Grumman TBM-3E Avenger is a classic machine in every right,superb flying qualities made the aircraft popular with pilots,this one is N6827C.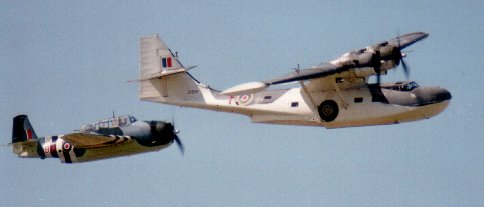 Nice ground to air taken from the flightline at the Confederate air show at Baginton
on 6.8.88,the Catalina is a PBY-5A ex Fire bomber.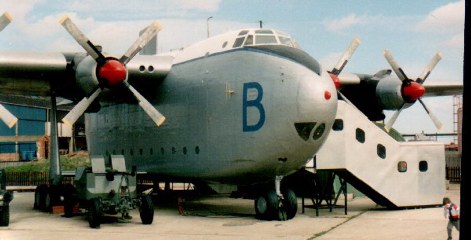 Now sadly scrapped off when the museum closed,this Blackburn Beverly XB259 took pride of place in the Museum of Army Transport,Beverly,Yorkshire,photographed here on 25.3.89.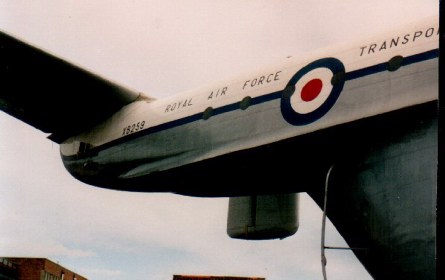 The huge tail assembly of this remarkable aircraft,it featured reverse thrust on its piston engines to enable it to taxi backwards a unique feature in its day.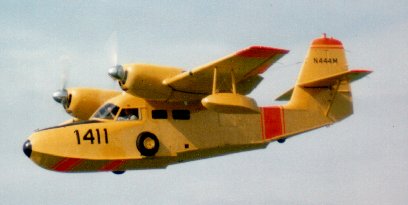 This is the Grumman G-44A Widgeon amphibian photographed at the Badminton airshow on 24.7.88,its identity is N444M and shortly after this photograph was taken a thunderstorm of huge proportions developed and the aircraft fled into the distance!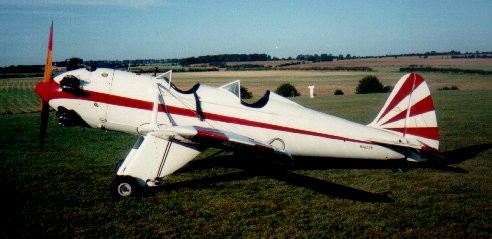 This pretty little aircraft is non other than the Ryan PT-22-RY N56028,ex US Army 41-20806,it was owned for a while by Vic Norman of Crunchie Stearman fame and was based at that delightful ex WW1 airfield at Rendcombe where it was photographed on 15.9.91,here are some more Ryan monoplane pictures for you to enjoy-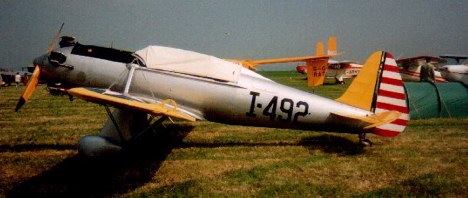 Sad to relate that this one is no more and serves as a spares ship for G-BTBH based on a farm strip in Warwickshire,the aircraft is G-BPUD which suffered an engine failure whilst on a photographic sortie and crashed into a ploughed field ripping off the wings in the process in Norfolk.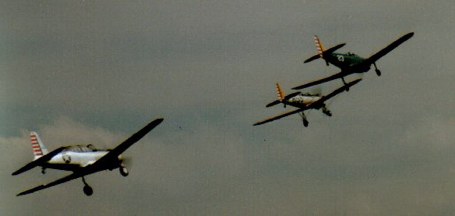 Hear the roar of those engines! This dramatic picture shows the vintage PT team in action at Cosford 11.6.89,lead aircraft is yet another PT-22 and just behind is the Fairchild PT-23 and then a Vultee Valiant trainer,all of the aircraft were owned by aerobatic champion Bob Mitchell but now the team is disbanded and the aircraft gather dust in museums.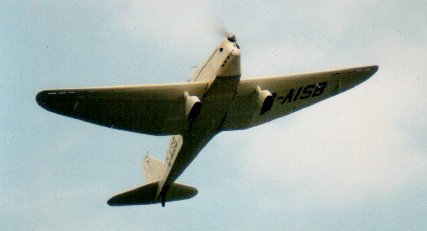 The tiny Tipsy B series I G-AISB photographed at Cranfield on the occasion of the PFA Rally in 1989 climbs away steadily,this aircraft was later sold to its land of birth in Belgium as OO-EOT which incidently stands for its designers name E.O.Tips,a really delightful vintage aircraft which epitomised economical pre war flying.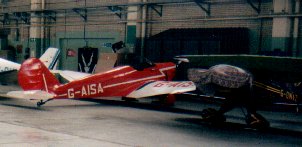 Another Tipsy is G-AISA based at a strip called Coleford Tump,it is a 'B' series 1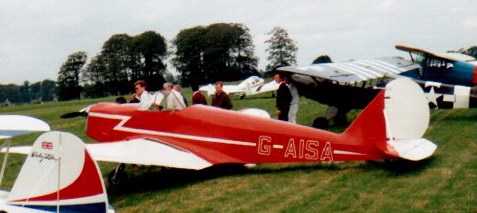 The same aeroplane at Badminton on 26.7.87 much cherished by its owner G.A.Cull who has built a replica of a Comper Swift,the owner used to build free flight scale models and had plans published in Aeromodeller magazine of interesting light aircraft.

Popular pre war training and touring aeroplane was the B.A Swallow 2 basically an anglicised German Klemm fitted with the popular and reliable Pobjoy Cataract 3 engine,this one was impressed wartime as BK897 and now flies occasionly from Shobdon airfield in Herefordshire.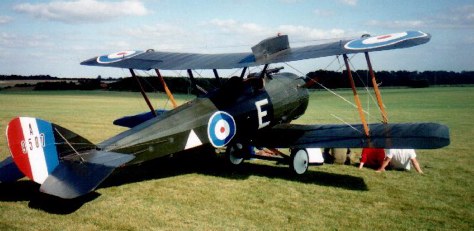 This replica DH.5 A9507/E N950JS was caught at Rendcombe RFC on 15.9.91 to celebrate the opening of this unique ex World War one airfield in the Cotswolds,the aircraft was lovingly built from scratch by John Baptist Shively in Florida where it was returned shortly after this photograph was taken,it is certainly one of the finest replica aircraft that I have had the pleasure to see first hand.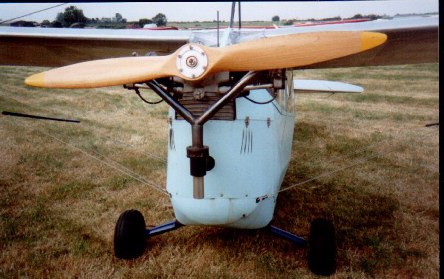 The distinctive profile of the JAP 99 engine as fitted in the wonderful little Aeronca C.3,known with affection as the 'Airknocker' or 'Flying Bathtub' it was the epitomy of cheap pre war flying.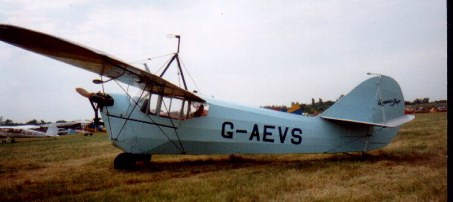 Another view of the same aeroplane G-AEVS which was rebuilt at Breighton and uses some parts from G-AEXD,this particular one is a Aeronca 100 pictured at the Popular Flying Association rally 1994.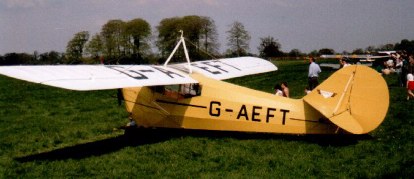 G-AEFT Aeronca C.3 visiting Badminton here on 26.4.87 whilst on a cross country from Middle Wallop,the aircraft is now lovingly cared for by Nick Chittendon and flys from the airstrip at Combrook in Warwickshire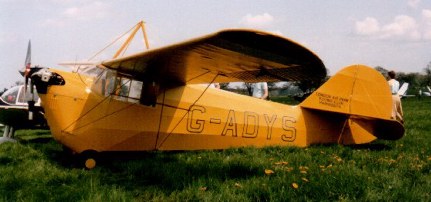 The late Ben Cooper rebuilt this lovely example at his Hungerford strip,this is also a C3 and was photographed at Badminton on 26.4.87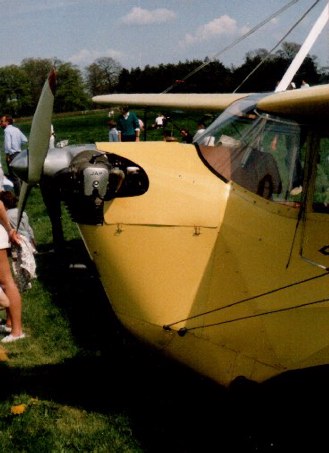 The distinctive nose profile of the classic Aeronca C3 are shown to good effect in this view of G-AEFT,the aircraft was the subject of a television film called 'Flying for Fun' set in the 1930's

The 1936 Curtiss Robin gained fame as a reliable American touring aircraft of the 1930's it was also renowned for 'Wrong Way Corrigan' the aviator who flew the Atlantic the wrong way round! Corrigans aircraft is still preserved to this day in a non airworthy state,an ex Argentinian banner towing example also appeared on the British Civil register being put up for auction at Duxford some years ago it failed to reach a bid,it then went to La Fert Alais for storage pending a sale.

The Vultee BT-13 Valiant basic world war two trainer set many pilots on the right course,like the North AMerican Harvard it taught pilots how to handle fast agile fighter aircraft,a few of this type still fly in America and one example was flown at airshows in the UK by aerobatic pilot Bob Mitchell,it became nicknamed the Vultee Vibrator due to the vibration levels experienced in this type!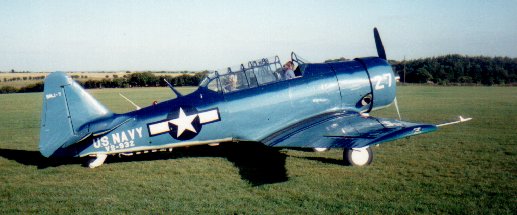 The Harvard/T-6 Texan aircraft was produced in very large numbers to train aircrews in the Second World War,this one is fitted with an arrester hook and was one of four assorted aircraft imported by Northweald Flying Services at Northweald airfield,it is N830X and was caught at Rendcombe on the very first open day there om 15.9,91

The mighty Convair B-36 Strategic bomber was in a class of its own,this awesome aircraft had six pusher engines and four jet engines,some were even based in the UK one made history by pluoghing across a main road on landing undershooting but it survived! the aircraft was also featured in a classic film made at that time called 'Strategic Air Command' featuring James Stewart,access to the rear of the aircraft was via a tubuler tunnel.
Thanks for this photograph which came from Kimber Walton of a preserved example in the States.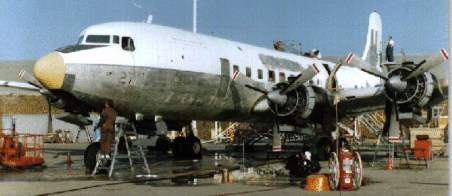 Still earning their keep around the world are numerous DC-6 aircraft used for charter and cargo operations,their future will be governed by the availability of valuable spare parts many gleaned from ex USAF aircraft which were broken up and stored for keeping the remainder flying,this one is being rebuilt to fly again in South America and appears to be ex military,thanks to Captain Tom Kemp for sending me the photograph.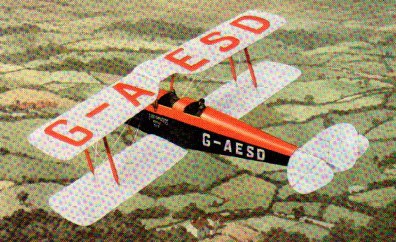 TIGER MOTH DH.82A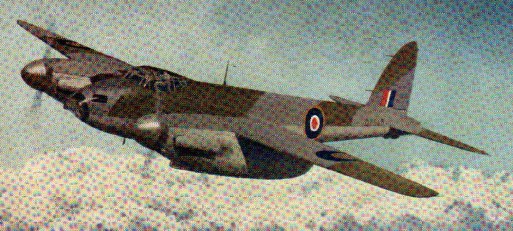 MOSQUITO,DE HAVILLAND DH.98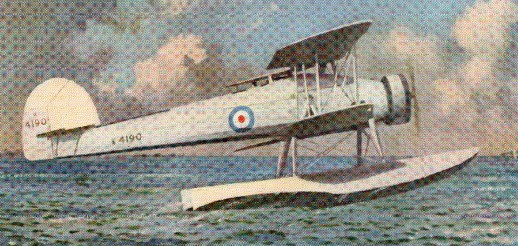 FAIREY SWORDFISH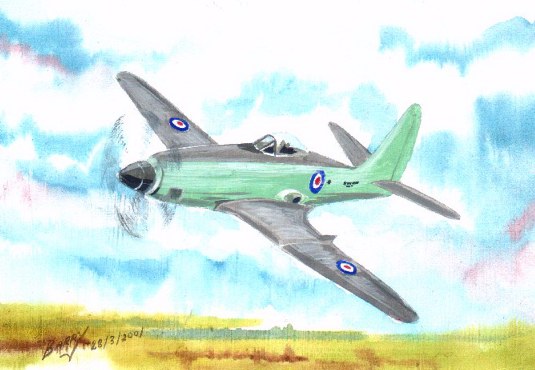 WESTLAND WYVERN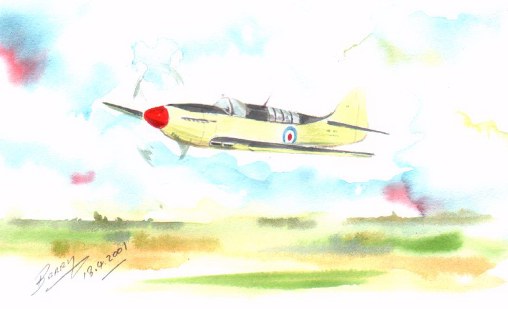 FAIREY FIREFLY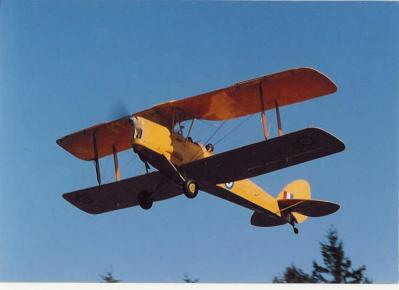 Another Tiger Moth picture to delight the biplane enthusiasts amongst us,note the non standard tailwheel for use on runways,the original tail spoon does not take kindly to tarmac operations.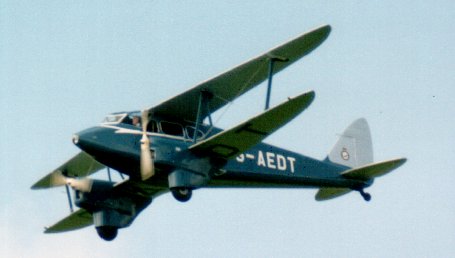 The clean lines of the De Havilland DH90 Dragonfly are evident here in this view taken at Badminton on 24.7.88 of G-AEDT which was completely rebuilt,designed as a private owner light twin biplane in the 1930's,I once owned the crashed remains of G-AEWZ back in the 1960's so have a soft spot for this type of aircraft.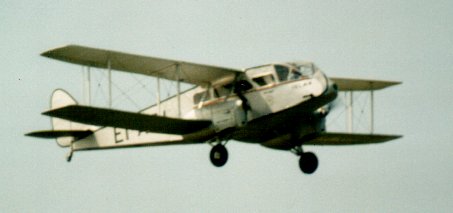 Aer Lingus provide historic flying at air shows and fly ins with this magnificent De Havilland Dragon painted in their original house colours as EI-ABI,it is actually EI-AFK.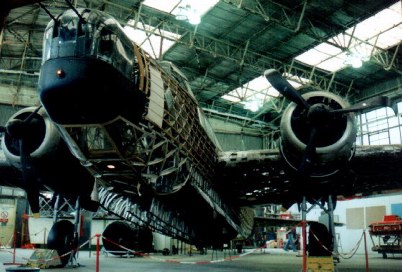 Former Lochness Wellington 1A,N2980 which was ditched there on 31.12.40 now finds a final resting place at the Brooklands Museum where skilled hands have rebuilt her from the ground up,Dave Peace took this shot on 11.6.95.
History of this aircraft is that it served with 20 OTU,37 and 149 squadrons.