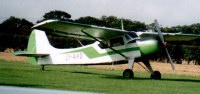 Interesting and unusual visitor to Coventry (Baginton) on 6.9.2000 was this Yak 12 aircraft from Little Gransden airfield in Cambridge,registered LY-AHD it is one of only two in the country.

Picture credit-D.Peace.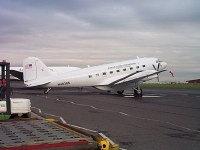 N40386 BASSLER BT67 TURBO DAKOTA CONVERSION,This aircraft visited Baginton on 21.10.2000 for its long distance ferry tanks to be removed whilst on a European sales tour,it returned again on 15.11.2000 to have them refitted overnight and departed the next morning for Oshkosh in the USA where the aircraft are converted to the Turboprop configuration.

photograph kindly supplied by Ewen Taylor of Fleet 80 fame.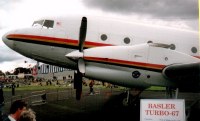 Basler converted Dakota as it appeared at the Farnborough air show on 12.9.92 note the plug insert in the nose section to preserve the aircrafts centre of gravity,this particular aircraft is N96BF.

B.Clay picture.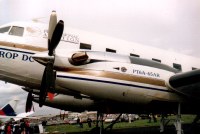 Strong contender for the Dakota prop jet conversion market is this Professional Aviation Douglas Turbo DC-3 registered in South Africa as ZS-LYW,the aircraft also appeared at the Farnborough air show on 12.9.92 it is interesting to compare the detail differences of the two aircraft.

B.Clay photograph. (records show that this aircraft was ex N3146Z c/n 14357/25802 and was written off 13.4.95)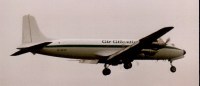 Seen here in its original Air Atlantique livery is their DC-6 G-SIXC landing here at Baginton on 25.5.87 both this aircraft and its sister aircraft G-APSA are kept busy on freight work and still earn their keep,the major work of removing the outer wing sections on G-SIXC was recently undertaken to replace the wing attachment bolts.

Archive photograph by Barry Clay.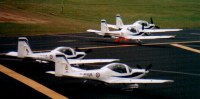 Now becoming a common sight over Warwickshire are the new Grob 115E aircraft operated by the University Air Squadrons,the aircraft replace the Bulldog which has done sterling service with the RAF.

picture by Dave Peace at Cottesmore on the occasion of the RIAT 2000,on 24.7.2000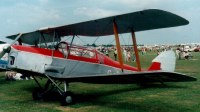 Earlier colourscheme used on Ken Broomfields Baxterly farm strip based Thruxton Jackaroo G-AOIR ex RAF Tiger Moth R4972 and one of only two now flying in the UK.Many Jackaroos have been re-converted back into Tiger Moths hence the rarity,Ken tells me that the lateral response is improved to that of the Tiger but the rear of the cockpit is very draughty for the passenger!

The annual Wings and Wheels event will be held this year on 5-6 th August when vintage aeroplanes and cars will be in abundance.

photograph at the PFA Rally at Cranfield in 1986 by Barry Clay.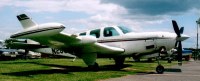 This Beech A.36TP Bonanza N250TP is owned by jockey Willy Carsan of Minster Enterprises and is a frequent sight away from its base at Tatenhill where Dave Peace took this photograph on 20.6.99,what looks like a radar pod is on the starboard wing and a laminar flow device just outboard of this.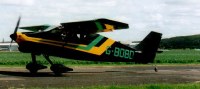 Wellesbourne resident of the month is this lovely little Whittman Tailwind G-BDBD ,this American homebuilt is active every weekend and is enjoyed by everyone who fly her.picture by Dave Peace at Wellesbourne on 11.4.99.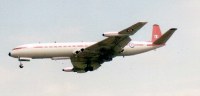 XS235 Comet 4C seen here landind at Fairford has been civilian registered as G-CPDA (G-APDA was a BOAC Comet 4C) previously based at Boscombe Down it has recently been ferried to Bruntingthorpe and is being overhauled for a possible flight to Lasham airfield where the aircraft is no stranger as Dan Air once operated a fleet of them and maintained them here.

Thanks to Dave Peace for providing this lovely picture.


XS235 now painted as G-CPDA and seen here at Bruntingthorpe,built by Hawker Siddeley the aircraft first flew on 26.9.63 and has served with the A & AEE at Boscombe Down for navigational trials being given the name 'Canopus'

photograph supplied by Dave Peace.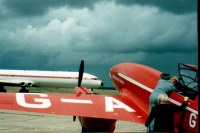 Lovely atmospheric shot of the original DH.88 Comet G-ACSS 'Grosvenor House' seen together with Comet 4C XS235 in the background whilst at a Hatfield open day on 1.7.89.

picture courtesy of Dave Peace.

Beech Kingair C90 aircraft are fairly common visitors to Coventry but this example is a freighter registered OY-JRO of Danish Air Transport with a non standard unusual colourscheme.

picture credit-Dave Peace.

WELLESBOURNE RESIDENT OF THE MONTH-G-BBMO Chipmunk 22 photographed at Wellesbourne on 11.4.99 by Dave Peace earns our aircraft of the month feature.This Polish designed initially bulit in Canada design served in many air forces of the world including our own RAF,it soldiers on in civilian service and still enjoyed by those who appreciate real aeroplanes with its well harmonised controls and fine aerobatic capability.

MAERSK AIR LTD NEWS.

Four of the Maersk Air Ltd/British Airways fleet have been re-registered in Denmark,the aircraft are all Canadair CL600-2B19 RJ regional jets,the new allocations are as follows-

G-MSKK now OY-MBO

G-MSKL now OY-MBP

G-MSKM now OY-MBR

G-MSKN now OY-MBS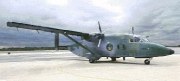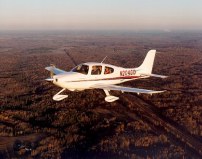 Cirrus SR20 N184CD is now based at Turweston and has been veru active of late,the aircraft represents the first production aircraft to have a built in parachute recovery system,the aircraft received a full FAAtype certificate in the US recently,Cirrus Design,Dulluth,MN,55811-1548 kindly supplied this photograph of a machine similar to the one based in the UK.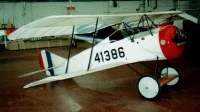 This Thomas Morse Scout replica G-MJTD was to have been the first of many world war one replicas to have been built in a factory at Baginton Airport in 1988,this lovely prototype was built by DEGA Engineering who were originally based in Cambridge moving to the Midlands,the aircraft was said to have flown at least once,photographed on 3.4.88 in the old Sir W.G.Armstrong Whitworth black hangar at Rock Farm it was later transferred to a new building Northside of the airfield but was not seen again shortly after that.